Our newest location in Queen Creek, Arizona, brings authentic Mexican food to a fresh location. We focus on the best ingredients to bring you the most delicious food that started in our backyard. Enjoy festive fun and great food in our newest neighborhood right here in the Valley.
Whether you choose to dine in with us, use our convenient drive-thru to take Mexcellent cuisine home with you, or arrange for catering services, we know you'll be thrilled with Backyard Taco in our brand new location.
Welcome to the familia, Queen Creek!
Location and Points of Interest in Queen Creek, AZ
Our Queen Creek location is situated on Ellsworth Rd near the Horseshoe Park & Equestrian Centre. We're just a short trip away from the Phoenix-Mesa Gateway Airport. That means you can stop right in when you get back from a trip, or you can enjoy us on your way out of town, too! No matter your schedule, choosing Backyard Taco in Queen Creek means you'll be getting authentic, fresh Mexican food.
About Backyard Taco
Backyard Taco was born out of our dream to serve delicious Mexican food to all our family and friends straight out of our backyard. When we first started sharing the flavors of Mazatlan, we had no idea we'd eventually run out of space and expand into our first true restaurant location. Today, Backyard Taco is in several locations across the Valley area, with a plan to open more.
Despite our growth, we're still focused on bringing genuine Mexican flavors to the people of Arizona, and we do it with fresh ingredients and serious fun. While our menu may look simple, we're committed to flavor, and we know that only the bright flavors of authentic ingredients highlight the best of our recipes.
We first opened this location in June of 2022, and we continue to welcome the community into Backyard Taco Queen Creek. We'd like to think of the people we serve as more than just customers – you're our amigos. In fact, you can even find merch at our Queen Creek location so you can share your love every time you leave home. From shirts emblazoned with luchador masks to our Taco Zen tee, let your friends know you're a Backyard Taco Queen Creek amigo.

Queen Creek's Most Popular Menu Items
Flavor is the most important thing we bring to the table. With authentic recipes and a real spotlight on simple ingredients, our Queen Creek location serves the best Mexican food around.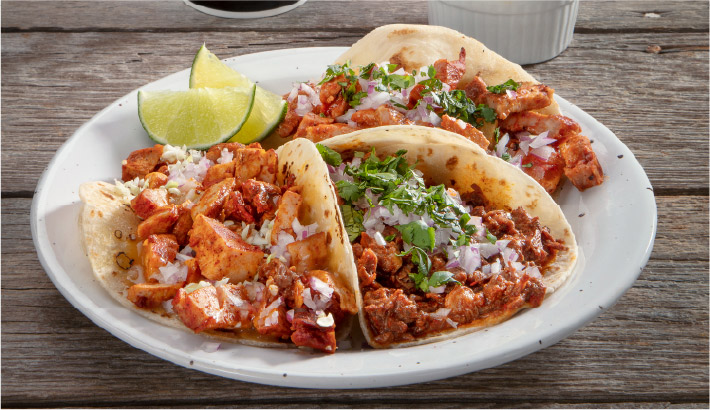 Tacos
Our tacos feature protein options like carne asada (steak) and pollo (chicken), as well as birria (shredded beef) and al pastor. We keep our toppings simple and authentic, offering cilantro, red onion, tomato sauce, and cabbage for a taco that centers around the complex mesquite flavor of your favorite protein.
Papa Loca
Our Crazy Potato is sure to please. With the same protein options as the tacos, as well as a vegetarian choice, a baked potato becomes your vehicle for excellent flavor.
Quesadillas
These aren't your abuela's quesadillas. We stuff our quesadillas full of your choice of carne asada, pollo, birria, al pastor, bean and cheese, or just cheese. Then, we offer fresh toppings to choose from.
Chorreada
This is our own take on gorditas. Chorreadas are made with our handmade corn tortillas and stuffed with your choice of delicious meats and toppings.
More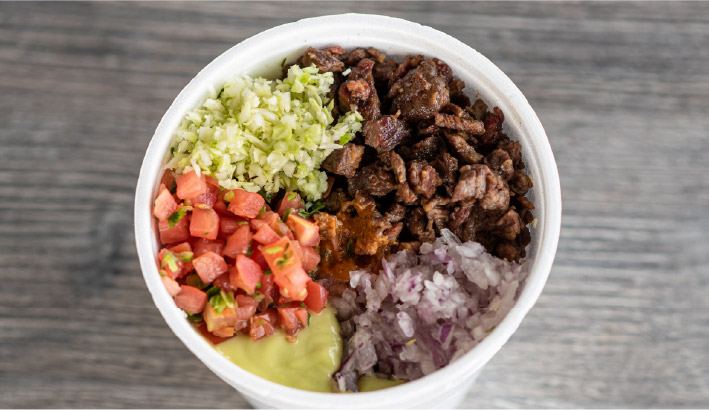 If these options aren't enough for you, you can also choose from our burritos, grilled tostadas, Bueno Bowls, dessert options, and sides. If you need to feed a big crew, choose a family pack, ready to make up to 16 tacos.
Catering
Our Mexcellence Taco Bar includes four tacos each for a minimum of 10 people. We provide several delicious choices of meat, tortillas, and toppings – and don't forget the chips and salsa! We'll even send along plates and cutlery.
If you're looking for something more customized, try a selection of Individual Box Meals. You can choose tacos or a burrito with customizable tortillas, meat, and toppings.
We also offer a Burrito tray with a minimum of six burritos, as well as a family pack that feeds up to five people.
Cinco de Mayo in Queen Creek, AZ
Cinco de Mayo is a grande deal for us. We love keeping our locations fun and festive, and that's no different for our Queen City Backyard Taco. With folkloric dancers, music, and our Mexican cuisine, every year, we celebrate the Mexican victory over the French in 1862. Food, fun, and flavor allow diners and Mexican Americans alike to celebrate this important day of liberation at our Queen Creek location.
Queen Creek, AZ Community Involvement
We know that community is the most vital component of our success; without you, we wouldn't be here. That's why it's so vital for us to be able to give back to the Queen Creek community. We're committed to supporting our local schools, non-profit organizations, and local sports teams to help our community succeed.
What Our Amigos Are Saying
Don't just take our word for it – learn what our Queen Creek amigos are saying.
This place was AMAZING! I have only been to a few locations but absolutely loved the atmosphere at this location. Everyone was so sweet and they checked on you to make sure you were doing good, but they didn't overly crowd you. Amazing service and will go back to this location.
-Casey

"This is my favorite place to go for tacos. They are consistently good. Service is fast and friendly. I've tried different taco places and backyard taco is always on the top of my list."
-Heather

I have been eating Backyard Taco since it was in Ruben & Mari's backyard. I'm so happy they opened up in Queen Creek. Great food and great dining area!
-Ruben

Get Your Authentic Comida Mexicana Today at the Queen Creek, AZ Location
From our backyard to our Queen Creek dining room – or even your home – our goal is to give you the best in flavor and atmosphere each visit. Our backyard still isn't big enough, but that's why we have several locations: you'll never miss out. We bring the best to you, so you can love our food too. Stop in today to dine in and enjoy our food and our atmosphere, or check out our convenient drive-thru.
We look forward to seeing you at Queen Creek!