Backyard Taco on Signal Butte Road in Mesa
With the growing demand for Authentic Mexican Food in Mesa, we decided to open a sixth Backyard Taco location on Signal Butte Road in Mesa for all to enjoy.
Welcome to Backyard Taco's newest location, right in the heart of East Mesa! We're excited to bring you the same authentic Mexican food, now with the convenience of a drive-through and a spacious patio for those who prefer al fresco dining.

Backyard Taco Signal Butte Hello, East Mesa! We're thrilled to become part of your neighborhood at our new location – 1562 S Signal Butte Rd, Mesa, AZ 85209. Whether you're a local or just passing through, we're here to serve up the fresh, delicious Mexican cuisine that has made us a favorite throughout the Valley.
Our Signal Butte location is the perfect place to grab a meal, whether you're dining in, picking up, or driving through. And remember, we're open from 10am to 10pm Monday to Thursday, 10am to 11pm on Fridays and Saturdays, and closed on Sundays.
About Backyard Taco Signal Butte At Backyard Taco, we believe in the power of fresh ingredients and authentic flavors. Our Signal Butte location embodies this philosophy, offering the same traditional Mexican recipes that have made us a hit across the Valley.
We first opened our doors in June 2023, and we're thrilled to welcome the East Mesa community into Backyard Taco. We like to think of our customers as more than just patrons – you're our amigos. And don't forget to check out our merchandise while you're here, so you can share your love for Backyard Taco wherever you go.
Signal Butte's Most Popular Menu Items From our classic tacos to our unique Papa Loca, we pride ourselves on bringing the best of Mexican cuisine to East Mesa.
Here's a taste of what you can expect at our Signal Butte location: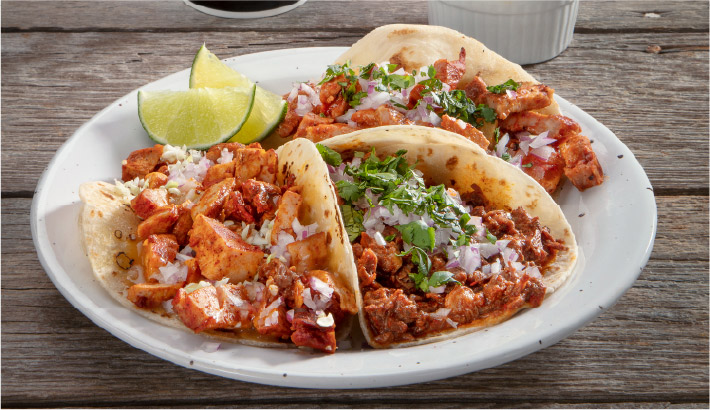 Tacos
Choose from carne asada (steak), pollo (chicken), birria (shredded beef), and al pastor. Top it off with cilantro, red onion, tomato sauce, and cabbage for a truly authentic experience.
Papa Loca
Our Crazy Potato will not disappoint. Packed with your choice of protein and toppings, it's a flavor explosion.

Quesadillas
These aren't your average quesadillas. Stuffed with your choice of meat or cheese and topped with fresh ingredients, they're a meal in themselves.[/two_third]
Grilled Gordita
Our take on the traditional gordita, made with handmade corn tortillas and filled with your choice of delicious meats and toppings.

And don't forget about our Bueno Bowl, burritos, grilled tostadas, dessert options, and family packs.
Plus, if you're feeding a crowd, our catering options are sure to please.
Jobs at Backyard Taco in East Mesa
Want to apply for a positoin at our new location in east Mesa? It's simple Amigo! Simply fill out our online form and we'll be in touch soon!
Community Involvement in East Mesa, AZ
We believe in giving back to the community that has given us so much. That's why we're committed to supporting local schools, non-profit organizations, and sports teams in East Mesa.
What Our Amigos Are Saying
But don't just take our word for it. Here's what some of our amigos have to say about their Backyard Taco experience:
"This place was AMAZING! I have only been to a few locations but absolutely loved the atmosphere at this location. Everyone was so sweet and they checked on you to make sure you were doing good, but they didn't overly crowd you. Amazing service and will go back to this location." -Casey
"This is my favorite place to go for tacos. They are consistently good. Service is fast and friendly. I've tried different taco places and backyard taco is always on the top of my list." -Heather
"I have been eating Backyard Taco since it was in Ruben & Mari's backyard. I'm so happy they opened up in East Mesa. Great food and great dining area!" -Steve
So come on down, order online for pickup, or zip through our drive-thru. We can't wait to serve you!