While you'd be hard-pressed to find someone who doesn't appreciate a good burrito, that doesn't mean that all burritos are created equal. In fact, burritos come in a wide variety of shapes and sizes, and can differ in everything from the tortillas used to the various grilled meats, vegetables, and toppings inside.
Fortunately, no matter the authentic Mexican flavors you're after, there's a strong chance that you'll find them somewhere in a burrito. From bold spices to an assortment of fresh vegetables, to delectable meats and beyond, you can truly experience the best south-of-the-border flavors in a good burrito.
What Is a Burrito?
Since burritos are such a versatile dish and can feature a wide variety of flavors, few people have a refined understanding of what, exactly, makes a burrito a burrito. Not every combination of meat, tortilla, and toppings can be categorized as a burrito. So, what is a burrito, really?
Hailing from northern Mexico, the burrito is a simple idea at its core. First, you take your choice of meat—usually carne asada (steak) birria (shredded beef), pollo (chicken), or pork Al Pastor, and wrap it all up in a flour tortilla. While both fajitas and tacos also incorporate tortillas and filling, it's the extra-large flour tortilla folded up into a portable meal that differentiates burritos from other Mexican dishes. It's also this deceptively simple base that leaves a great deal of room to get creative and really spice up a burrito with ease.
In Mexico, burritos are most commonly served with meat alone. Here in the Southwest United States, the burrito filling options are fairly vast. For instance, it isn't uncommon for burritos to be served with black or pinto beans, salsa, guacamole, rice, pico de gallo, tomatoes, avocado slices, cheese, sour cream, and more, depending on taste.
Just a click away for the best tacos in Chandler
The History of the Burrito
If you trace the burrito back to its origin, you'll find glimpses of the dish as early as 10,000 BC. At this point in history, it was extremely common to use a type of corn tortilla as a vehicle to serve other foods. It's these early Mesoamerican dishes that are now considered the key precursor to today's burritos.
The burrito as we now know it didn't come to be until the start of the twentieth century. However, the actual origin story of the dish remains murky. In fact, there's more than one possible story, depending on who you ask.
Juan Méndez
One of the most popular burrito origin stories involves a man by the name of Juan Méndez. Many modern Mexicans credit him as the inventor of the contemporary burrito. Essentially, the story claims that Méndez made a living as a taco seller in Ciudad Juárez during the Mexican Revolution.
The story goes on to explain that Méndez would ride around the city on a donkey, serving grilled meats and other food packaged in large flour tortillas to make sure it stayed warm. If this story is true, it could actually help explain the origins of the name "burrito," itself. In Spanish, "burrito" means "little donkey," and Méndez's brand-new food item was nicknamed the "food of the donkey."
Unnamed Ciudad Juárez Vendor
Some people believe that burritos can be traced back to an unnamed street vendor, who—like Juan Méndez—was based in the Mexican city of Ciudad Juárez. According to this story, the burrito wasn't created until quite a few years later, in the 1940s.
This particular street vendor would sell his creation to poor children at a school near his workplace. The vendor developed an affectionate, although slightly harsh, nickname for the children he served. He called them "burritos," which can also be translated as "dimwitted" or "slow." Over time, his creation also came to be known as a burrito.
Sonora, Mexico Tradition
The third and final theory claims that the burrito was first crafted in Sonora, Mexico. According to this story, the burrito was initially created as a food that could be effortlessly carried around and eaten while traveling. At the time, traveling was mainly done by donkey. Hence, we see another way the "little donkey" translation lent itself to the naming of the burrito.
What Is in a Backyard Taco Burrito?
No matter how the burrito received its name, those searching for the best burritos in AZ need look no further than the delicious offerings at Backyard Taco. Each of our burritos starts with a fresh flour tortilla. Then, when deciding on the perfect combination of burrito ingredients to wrap in all that warm, floury goodness, you can choose from the following options:
Steak/Carne Asada
This hearty burrito is packed with its fair share of mouth-watering ingredients, including mesquite-grilled steak, refried beans, diced cabbage, red onion, pico de gallo, guacamole, as well as our signature red tomato sauce. This is one of our most popular menu items for a reason.
Chicken/Pollo
In the mood for meat, but not necessarily for steak? Our chicken burritos are just as filling and delicious. Much like their counterpart, these burritos are also served with refried beans, diced cabbage, red onion, pico de gallo, guacamole, and red tomato sauce.
Birria
Birria is another popular beef-based option. We marinate our beef shanks in our secret blend of birria seasonings, then shred the beef after cooking for the perfect moist burrito filling. Birria burritos are stuffed with a generous helping of refried beans as well as the traditional diced red onion and cilantro.
Al Pastor
If you're more of a pork fan, try our al pastor burrito, made with our very own spit-grilled pork and adobada marinade. Like the birria burrito, this variety is packed with refried beans, diced red onion, and cilantro.
Bean & Cheese
Of course, just because you're not a meat-eater doesn't mean you should miss out on a delectable Mexican burrito. That's why we offer the bean & cheese burrito, loaded with your choice of beans and cheeses. Perfecto!
Low-Carb Burrito Bowls (Bueno Bowls)
If you're looking to decrease your carb intake, you can skip the tortilla and load a bowl with our signature burrito fillings. Top with your choice of vegetables, sauces, and cheeses, and you have the perfect low-carb meal.
Backyard Tacos Burrito Reviews
Not quite convinced that you should head down to Backyard Taco for one of our burritos?
Here are just a few of the customer reviews we've received that heap praise on our outstanding selection of burritos:
"Fresh authentic Mexican food and a friendly staff each and every time. Consistency is difficult to pull off in the food industry. BYT has it mastered! I love the burritos with the guacamole sauce! Definitely a must visit in AZ!"
"Amazing street tacos and burritos! Everything is cooked fresh and they have the option of getting the burrito as a low carb bowl."
"Love it! High quality street tacos, quesadillas, burritos. [The] carne asada burrito with beans and sour cream is wicked good! The meat is so flavorful. The patio is cute and cozy. Fast, cheap, delicious!
"I had the Beef Carne Burrito. The meat had such a nice mesquite flavor, combined with the other fresh ingredients, that no salsa was even needed. This was probably the best burrito I have ever had and at $6-7 the price was a bargain."
Who Is Backyard Taco?
At Backyard Taco, our mission is simple—we strive to provide Arizona with fantastic, highly authentic, Mexican cuisine. Personally, we believe that this delicious food should be accessible to anyone, no matter where they are. Of course, that includes serving Arizona with our unbeatable burrito options. Our founders, Ruben and Marisela, hail from Mazatlán, Mexico. Both have a deep-rooted passion for food, as well as the many ways good food can help bring people together.
Backyard Taco Locations
Since our humble backyard beginnings, Backyard Taco has continued to grow to four different locations throughout Arizona with two more opening in 2022. We're currently serving speedy, inexpensive, authentic Mexican cuisine in Chandler, Gilbert, and both north and south Mesa, AZ. That means that the next time you're on the lookout for a flavorful burrito, you can use our website to find the location nearest you. You can even order online and take advantage of our convenient pick-up service.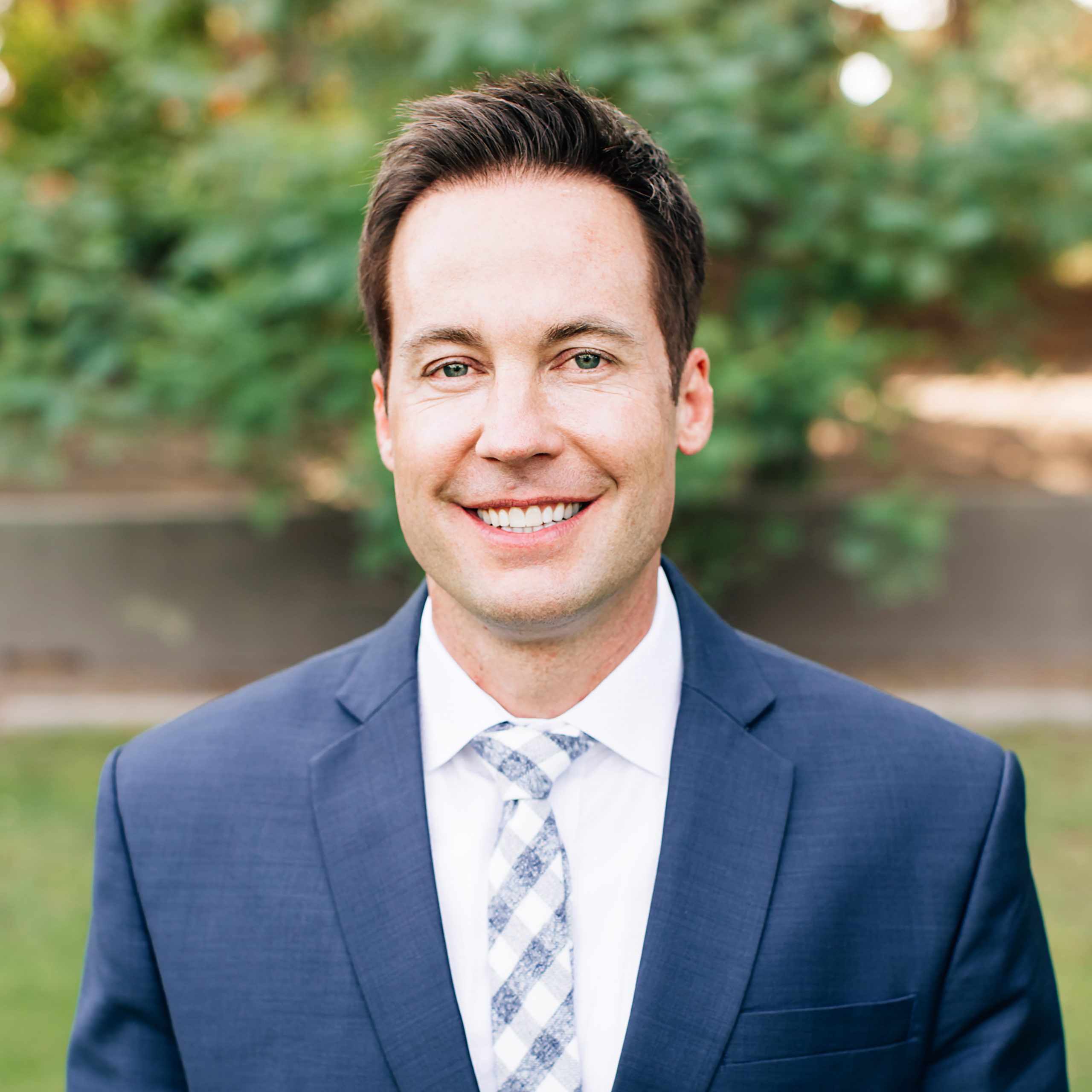 Dr. Tyler loves tacos! He is one of the owners of Backyard Taco, and can sometimes be found moonlighting there at night or on the weekends.
Dr. Tyler Robison is an alum of Mesa's Mountain View High School. He graduted from Brigham Young University before being accepted to the "Top Ten-nationally ranked" University of Louisville in Kentucky, where he earned his Doctorate in Dental Medicine and a Master's Degree in Oral Biology. He graduated with honors in the top ten percent of his class. Dr. Robison continued at the University of the Pacific in San Francisco, where he received a second master's degree in dental science and his orthodontic certification.
Dr. Tyler enjoys serving in his community. He is a provider for the Smile Back Foundation, which offers scholarships for free dental treatment to underprivileged East Valley students. He is also a Major in the U.S. Army Reserve and served during Operation Enduring Freedom in 2008.
Dr. Tyler Robison's favorite pastimes include spending time with his family on the lake, at the beach, or on the slopes. He is an avid and crazy snowboarder! He has three incredible sons and one sweet daughter: Caden, Jace, Crew, and Bliss.