With five locations throughout Arizona, Backyard Taco has satisfied thousands of hungry customers with authentic, fresh Mexican cuisine. When a customer orders one of the many delicious options from our menu, we begin making it from scratch, as nothing in our kitchen is frozen. This is because we don't just pride ourselves on serving authentic Mexican food: we take pride in providing what we call "Mexcellence" to all our guests.
Loyal customers are the reason we can continue serving the wonderful people of Arizona, and many of them love singing our praises in the area. That's why Backyard Taco was voted "Top Taco in Town" by readers of the East Valley Tribune, and we're proud to have won this award several times since 2015. Better yet, we're more than just tacos; if you're hungry for tacos, quesadillas, or flan, we're prepared to meet your needs with hearty, authentic Mexican food.
Our customers have provided us with excellent feedback on many platforms beyond the Top Taco accolades over the years, and we want to share some of the best Backyard Taco reviews we're received. Like those on our site, the best part of these reviews is that they came from real customers we're pleased to serve time and time again.
Taco Reviews
There's a reason "Taco" is in our name: we work diligently to provide high-quality tacos to everyone in the Valley area.
Our tacos are made with your choice of corn or flour tortillas and are available with one of four different meat options:
Steak/Carne Asada
Chicken/Pollo
Birria (Shredded Beef)
Al Pastor (Seasoned Pork)
All tacos come topped with diced red onion. Steak and chicken tacos also come with red tomato sauce and diced cabbage, whereas our Birria and Al Pastor tacos include cilantro.
Here's what some of our customers have to say about our tacos:
Nothing goes wrong at this place. The tacos were excellent and delicious. They even have the island of the freshest guacamole, onions, beets and salsa for you to use. One of the best tacos places I've been in. Come on folks, just stop by and enjoy your tacos or grande burritos.
– Jimmy A., 5-Star Google Review
Best tacos in town! I always make a stop at this hidden gem whenever I'm in town. Does not matter what you order, it is always fresh and delicious. Grab your favorite salsas at the salsa bar and top your meal however you want. Enjoy the red onions and cucumbers too. If it seems crowded, don't worry, it's worth the wait!
– Marti R., Facebook Review

I absolutely love tacos. Single favorite food in the world and I can tell you this place has got them.
– Greg S., 5-Star Yelp Review
Crazy Potato (Papa Loca) Reviews
Backyard Taco is also home to a unique baked potato with a Mexican twist. Our Papas Locas come topped with your choice of savory ingredients. While you'll find suggested toppings on the menu based on the type of Papa Loca you choose, all options are topped with butter, sour cream, Monterey jack cheese, and diced red onion.
We offer five options on our menu, each with its own unique assortment of ingredients:
Steak/Carne Asada with diced cabbage and red tomato sauce
Chicken/Pollo with diced cabbage and red tomato sauce
Birria (Shredded Beef) with cilantro
Al Pastor (Seasoned Pork) with cilantro
Vegetarian with diced cabbage and red tomato sauce
Of course, you can customize your Papa Loca however you wish. No matter what you choose, you can see that this crazy potato dish comes highly recommended.
Yum!!! I can't stop ordering the carne asada baked potato. I have never been disappointed.
– Tom K., 5-Star Yelp Review

The service was quick and polite! The food was on point and delicious! I treated my mom to the crazy carne asada potato and she loved it! Will be back for another visit in the near future!!
– Tishana B., Facebook Review

Crazy potato with steak and the tacos were fantastic. We'll definitely be going back!
– Mariel M., 5-Star Google Review

Quesadillas (Stuffed) Reviews
Another one of our most popular items, Backyard Tacos' stuffed quesadillas, is a huge hit in the Valley area.
This is thanks to the six options and selection of toppings we have available:
Steak/Carne Asada
Chicken/Pollo
Birria
Al Pastor
Bean and Cheese
Cheese/Queso
No matter what you're in the mood for, stuffed quesadillas are a delectable, filling option that will keep you coming back for more next time you're in town. Several customers we've served in the past highly enjoyed our quesadillas, and we hope we can serve you as well!
I came in on a Tuesday for lunch and this place was busy! I was able to place an order within 5 minutes of my arrival, the staff was friendly and helpful. I received my food ten 10 minutes later (not bad for how busy it was) I ordered carne asada quesadilla and birria tacos, the tacos were flavorful, tender and hot. The quesadilla was delicious! The steak had a chargrilled flavor that makes this taco shop stand out from many others. I will be back to bring others.
– Neightrix S., 5-Star Yelp Review
Always a favorite! Great tacos and the quesadillas are big and full of meat and cheese. Fan favorite for me and all of my staff when we are visiting town!
– Get Local, Google Review

This place has the BEST quesadilla and tacos. Roast pork with pineapple!! OOTW!!
– Jon S., Facebook Review

Grilled Gordita (Chorreada) Reviews
Gorditas are essentially thick corn tortillas with a pocket of space perfect for stuffing with authentic Mexican ingredients.
Our grilled gorditas are made with fresh corn tortillas and come in five distinctive varieties:
Steak/Carne Asada
Birria
Chicken/Pollo
Al Pastor
Bean & Cheese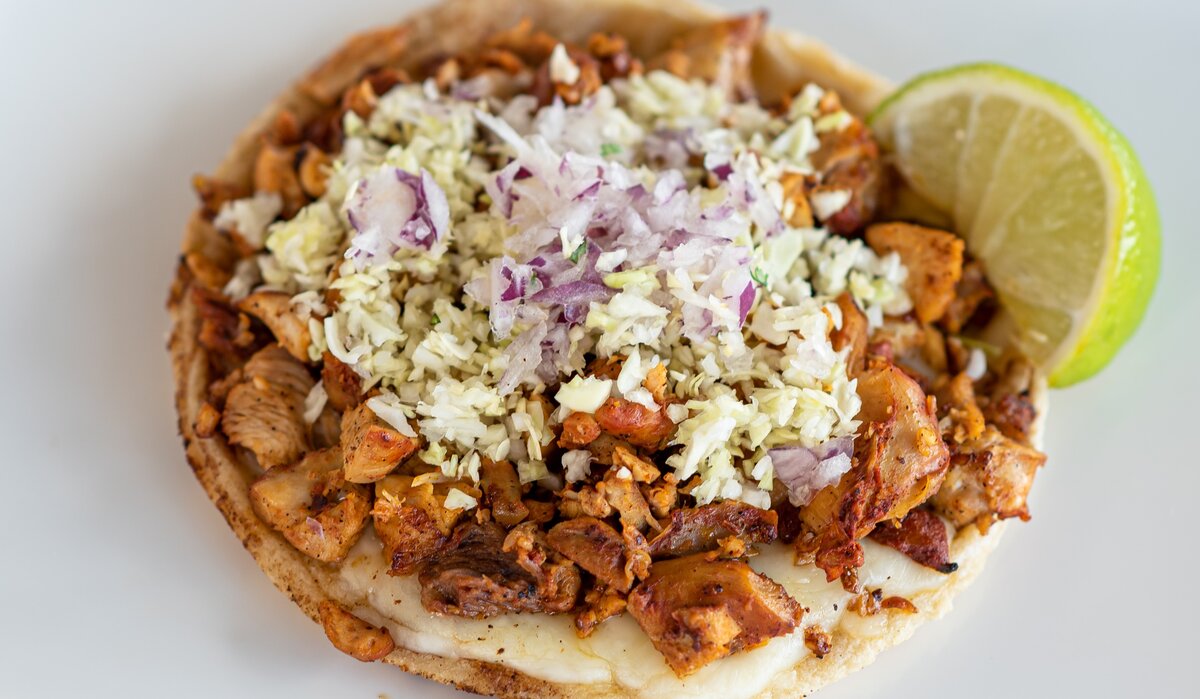 As with our other dishes, these are typically stuffed with diced red onion, diced cabbage, Monterey jack cheese, and cilantro. However, you can request that we customize your gordita, and we'll make it happen. We're proud to have served authentic gorditas to tons of satisfied customers over the years.
Loved the Al Pastor Gordita–really hit the spot. Cheesy, crunchy goodness and the meat was cooked and spiced to perfection. The Birria Burrito was dynamite as well. Great hot sauces and salsa. I'm now determined to try every single gordita from here. So good.
– K A., 5-Star Yelp Review
Had a great time with a group of 10 on the heated patio. Everyone was happy! My husband and I love the carne asada gordita with their creamy guacamole sauce. It is loaded with meat.
– Mandy T, 5-Star Google Review
Amazing food!!!!! Best Gordita ever, the meat is moist and delicious. I am coming again!!!!
– Jessica G., 5-Star Yelp Review
Grilled Tostada (Vampiro) Reviews
At Backyard Taco, we use fresh, crisp corn tortillas to create delicious tostadas, which are deep-fried or toasted tortillas that are used as a base to load other ingredients. Our tostadas come in the same five categories as our gorditas, and you can also customize these as you see fit.
Tostadas have been a popular option at our five locations for many years, and we've heard great feedback from our customers.
I had the bean and cheese burrito and chicken tostada and both were served very warm and had great flavor. Service was awesome.
– Matt T., 5-Star Yelp Review
The food is really good and so is the service!!! The crazy potato is my favorite thing to get, and my husband has gotten the quesadilla, tostados, and tacos and he likes them all. The Jamaica juice is a little on the sweet side but tastes real.
– Clarissa E., 5-Star Google Review
Stopped by for lunch on a work trip. The aromas approaching the small place were amazing, and then to walk in and see all the meat over charcoal was amazing. Had steak taco and el pastor tostada, beans – all were great. Portions look a bit small but it was filling. Clearly a popular local place for great tacos.
– Ted E., 5-Star Yelp Review
Burrito Reviews
If you're looking for something a bit more substantial than a taco to satisfy your cravings, our fresh, homemade burritos can handle the job. Our burritos include refried beans, diced red onions, as well as other ingredients, including guacamole, cilantro, and diced cabbage.
We offer:
Steak/Carne Asada
Birria
Chicken/Pollo
Al Pastor
Bean & Cheese
Our customers have continued to offer high praise for our ridiculously delicious selection of burritos.
One of the best burritos I've ever had.
– Ali D., Facebook Review
They have the best burritos in the area! The flavor is amazing and everything I've eaten is delicious! My personal favorite is the Carne Asada Burrito. If you're ever in the area I highly suggest you try this place.
– J F., 5-Star Google Review
I love Backyard Taco. I have been eating there for 2+ years. The Beef burrito is the best.
– Melissa O., 5-Star Yelp Review


Family Pack Reviews
We're proud to prepare hearty, authentic Mexican meals for your entire family – or your entire office, friend group, or anyone else who loves tacos. Our Family Packs contain a full pound of meat, 16 tortillas, salsa, and various taco toppings, allowing your group to customize their tacos however they like.
Family Packs are available in:
Steak/Carne Asada with diced cabbage and red tomato sauce
Chicken/Pollo with diced cabbage and red tomato sauce
Birria (Shredded Beef) with cilantro
Al Pastor (Seasoned Pork) with cilantro
Vegetarian with diced cabbage and red tomato sauce
We've met several families who continue to come to us when they're looking for a fresh Mexican meal. Here's what got Valley area families talking.
Their carne asada is our favorite in Mesa. We have ordered the carne asada family style carryout/ delivery many times. It's our go to for tacos!
– Malerie F., 5-Star Yelp Review
Great food! We ordered the family pack and had plenty to eat for 4. Everything was so tasty. The meat, the toppings for our tacos… and don't let your guard down – the red sauce had quite the kick to it! Looking forward to trying the rest of the menu!
– Fred A., 5-Star Google Review
We got the family pack and loved it!!!
– Maureen R., Facebook Review
Bueno Bowl Reviews
Also known as a "burrito bowl" at your standard taco joint, our Bueno Bowls are anything but standard. These bowls contain all the delicious ingredients you'd find in our other options but without a tortilla. In other words, it's a deconstruction of a burrito, and you have several customization options to choose from.
As you may have guessed, our Bueno Bowls are a consistent hit with our customers.
Delicious food! My daughter loves the street tacos here more than anywhere else! The Bueno Bowls are awesome and very filling. Burritos are great too. Just can't go wrong with Backyard Taco!
– Kimberly Z., 5-Star Yelp Review
The food is always fresh and amazing. My husband has had the burrito bowls and usually restaurants stuff those with some kind of filler, but not them. It's beans, lots of meat, pico, cabbage & cheese. I've had stuffed quesadillas (yum!!!) and street tacos. Both tasted amazing…
– Kathy P., 5-Star Google Review
Amazing street tacos and burritos! Everything is cooked fresh and they have the option of getting the burrito as a low carb bowl.
– Sarah E., 5-Star Yelp Review
Reviews of Sides and Desserts
As a complement to your main course, our sides and desserts are sure to enhance your experience at Backyard Taco. We offer chips & salsa, chips & beans, or just frijoles (beans) as a side, as well as the option to request grilled veggies.
If you're in the mood for dessert, our paletas (or ice pops) and flans make for excellent treats. And, of course, we offer various soft drinks, Mexican sodas, and fresh aguas frescas like Horchata, Limonada, and Jamaica for you to choose from.
Here's what our customers have to say about our sides, desserts, and drinks.
Always enjoy this place, great food…..really like the flan dessert. Everything is good from tostados to tacos to burritos.
– Vikram A., 5-Star Google Review
Yum yum! Our favorites are the steak quesadilla, pork tacos and crazy potato. We always get chips and salsa and fountain cherry cokes. Guacamole salsa is delish.
– Jane T., 5-Star Yelp Review
Find Eat-in, Takeout, and Catering Favorites on the Backyard Taco Menu!
As you can see, Valley area residents and visitors alike love stopping into their nearest Backyard Taco location to indulge in their favorite Mexcellent menu items. And, we get favorable feedback from our catering menu options. We would love to have you as a guest at any of our Backyard Taco locations, and be sure to let us know what you think. We're always listening to customer feedback, and we'd love to hear how we can improve your experience.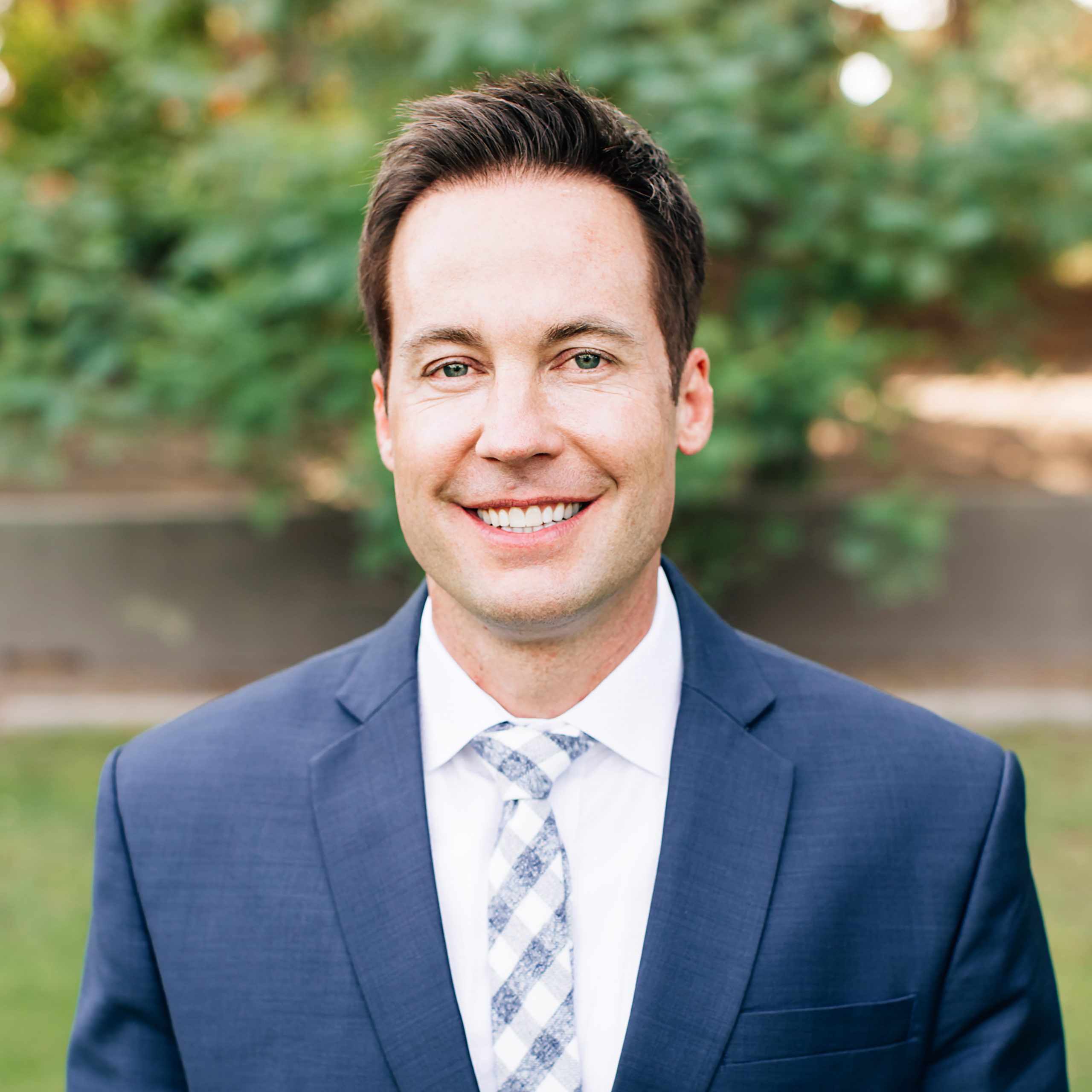 Dr. Tyler loves tacos! He is one of the owners of Backyard Taco, and can sometimes be found moonlighting there at night or on the weekends.
Dr. Tyler Robison is an alum of Mesa's Mountain View High School. He graduted from Brigham Young University before being accepted to the "Top Ten-nationally ranked" University of Louisville in Kentucky, where he earned his Doctorate in Dental Medicine and a Master's Degree in Oral Biology. He graduated with honors in the top ten percent of his class. Dr. Robison continued at the University of the Pacific in San Francisco, where he received a second master's degree in dental science and his orthodontic certification.
Dr. Tyler enjoys serving in his community. He is a provider for the Smile Back Foundation, which offers scholarships for free dental treatment to underprivileged East Valley students. He is also a Major in the U.S. Army Reserve and served during Operation Enduring Freedom in 2008.
Dr. Tyler Robison's favorite pastimes include spending time with his family on the lake, at the beach, or on the slopes. He is an avid and crazy snowboarder! He has three incredible sons and one sweet daughter: Caden, Jace, Crew, and Bliss.