Paletas are gaining more popularity in America each year, but not everyone knows about these traditional Mexican treats. If you find yourself craving something cold and sweet with a little bit more sophistication and panache than your typical ice pop, we have the solution for you. Likewise, if you need a treat that captures the magic of childhood, you would have to search far and wide before finding something better than a paleta.
What Is a Mexican Paleta?
A paleta is a gourmet upgrade to the basic idea of a popsicle. It's a frozen confection served on a stick like its little cousin, and it comes in a wide variety of flavors and styles to suit all palates. Paleta creators frequently go the extra mile to be particularly inventive with their flavors, and we at Backyard Taco absolutely love them.

How Is a Paleta Different From a Popsicle?
While both a popsicle and a paleta come on a stick, that's about where the similarities between the two end. Your typical popsicle is a very insubstantial mix of sugars and dyes that, while fun on a hot afternoon, really doesn't bring that much to the table. A paleta, on the other hand, has numerous benefits beyond the fruity flavor.
Paletas focus on using whole ingredients no matter what flavor they are emulating. Any fruit used to make a paleta will be pureed or chunked fresh and put into the bar to give you something to chew and really taste as you eat it. Paletas also don't stop at just fruit. A lot of paletas incorporate nuts, cream, milk, and even herbs or spices to bring balance and flavor to the bar. Some of our favorites can even be filled with different kinds of flavors and toppings in the center.
As you can see, paletas take it to the next level. Paletas are a proper dessert for someone looking for a good time. If paletas aren't piquing your interest, other Mexican sweet treats include limonada and aguas frescas!
The History of Paletas
The history of paletas is a little bit mysterious, as is the true history of many Mexican dishes. It's very hard to truly identify what qualifies as the very first instance of any dessert, and the paleta is no exception. Since what can go into a paleta is so varied, tracking down the real origin is complicated at best.
One of the clues that we have is that a common name for paleterías (paleta shops) is La Michoacana. La Michoacana is a toponym, a name based on the place something comes from, and this name suggests that the paleta was best known as a dessert from the state of Michoacan in western Mexico. While it has grown far beyond its original corner of Mexico, paletas still bear the fingerprints of this original location. You'll find many traditional Michoacan flavors available in most paleta selections.
Paleta Origin Stories
While we don't know the exact origin of paletas, there are a few stories that pop up more frequently than others, all of which place the time paletas first became popularized in the mid-twentieth century. The first story is that an unnamed Michoacan ice cream maker came back from a stay in the US. While he was staying in the United States, he encountered some popsicles and was inspired to put his own spin on the confection. After returning to Michoacan in the 1960s, he went on to open the first paletería, which popularized the dessert.
Similar to the first story, but with a bit more teeth, is the story of Agustin Andrade and Ignacio Alcazar, a pair of Michoacan natives from the city of Tocumbo. The story goes that, after traveling to the US, both men started paleterías in Tocumbo and came together to start the La Michoacana franchise, which began as early as the 1940s. Given that these two are directly attached to a real business, it seems the more likely story to be true.
La Michoacana
From their initial paletería, Agustin and Ignacio reached out to their friends and neighbors, helping them set up their own paleterías one by one. As the popularity of La Michoacana started to expand, it started to rapidly produce spin-off locations. The friends the men had initially trained started to train other friends and family members on their own. These people opened still more La Michoacana locations that weren't technically franchises affiliated with one another but were remarkably similar both inside and out.
Paleta Culture
While paletas have a lot of tried-and-true flavors, part of the culture of paletas is that of continuous innovation and exploration of what can be in a paleta. Unlike a lot of other desserts that are content to be one thing for the rest of time with only modest modifications, paletas dare to continue to stretch what a paleta can be. It's somewhat expected that a paletería that makes its own paletas is going to keep trying to push the envelope and come up with new ideas and recipes along the way. Paletarías are frequently unafraid to make paletas that are genuinely spicy or to incorporate fruits from beyond the familiar European standards.
However, this discovery and opportunity to try new things is part of the joy of paletas. Paletas have the power to simultaneously make you a kid again while trying something completely new at the same time. Paletas don't have to be the same thing every time in order to be a source of joy.

Paletas also don't just stay at home in the paletería. You can see paleteros pushing refrigerated carts about town in many cities, selling paletas to anyone who passes by and giving them a little taste of joy from wherever they bought their paletas. In the same way that children might chase the ice cream truck in America, the paletero draws a little cloud of hungry faces wherever he goes (but without the risk of running into traffic).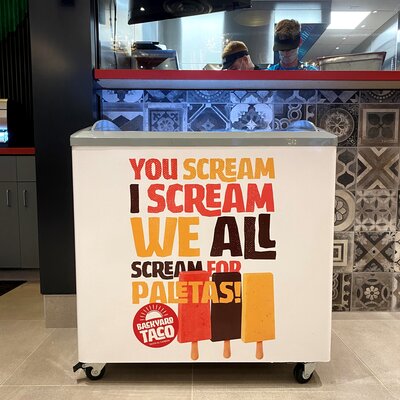 Our Paleta Flavors
We have brought together a collection of paletas that we think are both accessible for first-timers and delicious. We have some that are bright and fresh, others that are creamy and sweet, and a few familiar favorites that have been given the paleta treatment.
Strawberry Fruit
Our strawberry fruit paleta is chewy chunks of whole strawberry suspended in a puree of strawberry and sugar, giving you the full experience of the fruit from nearly every angle in the palm of your hand.
Strawberry Cream
The strawberry cream paleta takes those same strawberry chunks and purees and marries them with sweet cream to create a tart and creamy confection that is hard to resist. If you want a little bit of ice cream with your fruit or a little bit of fruit with your ice cream, this is for you.

Coconut Cream
With all of the creamy goodness that you crave with a fraction of the guilt, our coconut cream paleta is a lovely tropical masterpiece. Silky smooth with real coconut throughout, it's a delicious snack that would take forever to make at home… on a stick!

Cookies and Cream
Who doesn't absolutely adore cookies and cream? Creamy ice cream wrapped around little chunks of delightful chocolate cookies is one of our first loves, and we bet that more than a few of you share that love. Come on and revisit an old friend in a new way.
Eskimal (Eskimo Bar)
Sometimes you just want something so simple that it's perfect: a crunchy chocolate shell that shatters under your teeth, giving way to a rich vanilla ice cream. The eskimal paleta is decadence and simplicity for those days when you've just had too much going on, and you need something guaranteed to go right.

Bubble Gum
Not every paleta has to be pure and perfect whole ingredients, and this one is here to prove it. Bubble gum is one of those flavors that adults love to pretend to hate and kids just love to love. There is no need to hide your love from us, though; we won't tell anyone what you ordered.
Butter Pecan
Pecans are one of the best things to come out of the part of North America above the Rio Grande. When toasted in butter, their mellow and naturally buttery flavor comes to life perfectly, the floral and forestry notes balancing the sweet cream.
Try a Paleta Today
Is your mouth watering for something cold and delicious? Don't deny yourself a new experience. Come down one of our Backyard Taco locations and try one of the paletas we have to offer, or have one after your tacos for an authentically Mexican dessert after your authentic Mexican meal.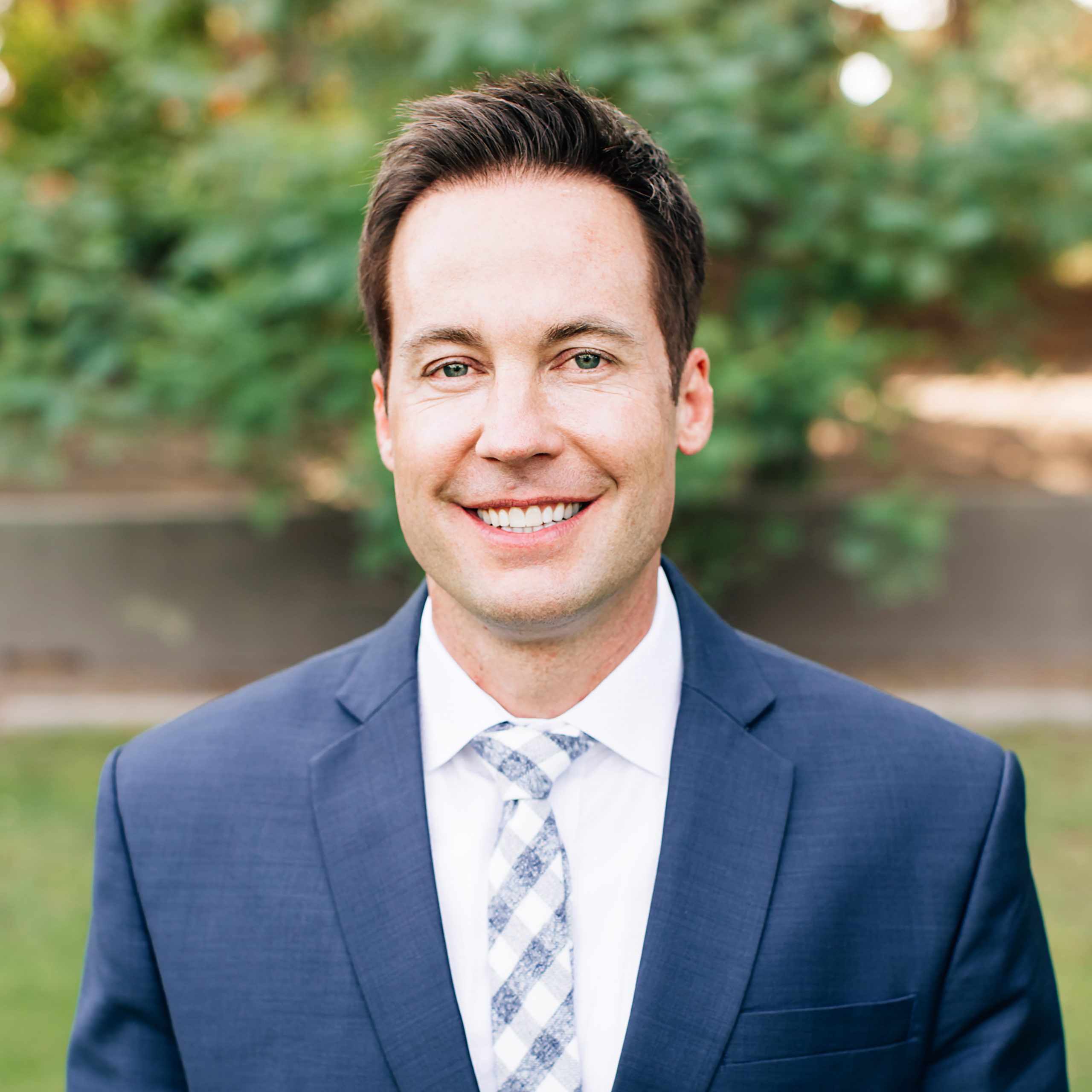 Dr. Tyler loves tacos! He is one of the owners of Backyard Taco, and can sometimes be found moonlighting there at night or on the weekends.
Dr. Tyler Robison is an alum of Mesa's Mountain View High School. He graduted from Brigham Young University before being accepted to the "Top Ten-nationally ranked" University of Louisville in Kentucky, where he earned his Doctorate in Dental Medicine and a Master's Degree in Oral Biology. He graduated with honors in the top ten percent of his class. Dr. Robison continued at the University of the Pacific in San Francisco, where he received a second master's degree in dental science and his orthodontic certification.
Dr. Tyler enjoys serving in his community. He is a provider for the Smile Back Foundation, which offers scholarships for free dental treatment to underprivileged East Valley students. He is also a Major in the U.S. Army Reserve and served during Operation Enduring Freedom in 2008.
Dr. Tyler Robison's favorite pastimes include spending time with his family on the lake, at the beach, or on the slopes. He is an avid and crazy snowboarder! He has three incredible sons and one sweet daughter: Caden, Jace, Crew, and Bliss.