Those new to Arizona eventually find their way to BYT. We believe nothing is better than the fresh taste of authentic Mexican tacos—unless, of course, it's the variety of other authentic Mexican recipes we serve here at Backyard Taco. That's why we've become such a staple for Arizonans, with our range of locations in the best cities in the state—Queen Creek, Chandler, Gilbert, and Mesa—with more to come.
Authentic Mexican in Arizona
Taco Tuesday has even inspired Backyard Taco to create Taco t-shirts for our loyal band of taco enthusiasts, and one thing we love about our fans is that they have a ton of great suggestions for additions to our menu. Because Taco Tuesday has become such a big deal, you may have your own ideas about what makes a good taco. However, that's not to say all tacos are created equal—or that we serve just any old tacos here at our Arizona locations.
The American version of tacos served at the many fast-food joints in the area might taste good, but we have a secret for you: they're not even close to authentic. Those crunchy tacos laden with sour cream and shredded cheese might be delicious, but authentic Mexican tacos demand the freshest, most flavorful ingredients. When you're this close to the border, you deserve an authentic version of one of the best foods known to mankind.
With ready-made fast-food options, you're getting basic flavors with lots of toppings to help fill in those flavor gaps. Even family-style Mexican-adjacent food like Tex-Mex cuisine has veered significantly from its roots. Combining different flavor profiles from diverse cultures, or food fusion, isn't a new concept, and Tex-Mex has been around for a long time.
The melting pot that is the Texas/Mexico border drew in a lot of cooks that adapted recipes to suit a wider audience. The Mexican restaurants that started to open early in America's history began to restructure their flavors to suit the consumers they were making the food for.
These ingredients were ones that locals could find easily, such as tomatoes, canned olives, shredded cheese, ground beef, and black beans. If you're looking for the best Mexican restaurant in Chandler, Arizona, and the surrounding areas, look no further than Backyard Taco.
Authentic Mexican Flavor and Ingredients
One of the most important components of
authentic Mexican food
is layers of fresh flavor. Mexican cooking focuses on the deep, complex flavors that are developed from fresh ingredients like marinated and grilled meats, roasted vegetables, ground spices, and more. That's why authentic Mexican cooking has a quite different feel from this evolved Tex-Mex style.
With a rich history of Spanish influence and a wealth of indigenous cooking and culture, Mexican cuisine has been adapted straight from the source.

That makes the flavors truly diverse and complex in a way that may surprise those who are more familiar with Tex-Mex-style foods. You can tell fairly quickly when cooking is authentic because of the different ingredients that authentic Mexican cooking uses from those more Americanized styles.
Some of the most important ingredients include:

Corn – From tortillas to unique flavor accents, corn is used in a variety of ways. It isn't just a casual add-on in most cases but is instead an important part of the flavor profile of many dishes.
Spices – Authentic Mexican cooking never shies away from using bold spices in a way that frequently surprises American palates. While most people aren't strangers to onions and garlic in everyday dishes, cloves, cinnamon, and a wide variety of chilies are traditionally a major component of authentic Mexican dishes.
Chilies – Mexican cooking features more than 100 kinds of chilies. Chilies have more to offer than heat; they also hold complex flavors that add a great deal to Mexican cooking.
Cilantro – This herb has a rich history in ancient cultures. Cilantro has been an integral part of authentic Mexican flavor since the 1500s.
Avocado – Another food that is indigenous to Mexico, the avocado is an important ingredient in Mexican cooking. Guacamole has become increasingly popular in the United States, but the ingredient finds its way into many different dishes, whether it is mixed in or used as an accent to a recipe.
Beans – Beans are not only nutritious, but they also add protein, texture, and flavor to a wide range of dishes. You're likely to see pinto or black beans to offer depth and richness to your dish.
Citrus – Acids provide an important flavor balance to many cuisines, and you'd be hard-pressed to find a Mexican restaurant that neglects lemons and limes. Citrus works very well in balancing the bold flavors of chilies and various spices.
Meats – Authentic Mexican cuisine features many kinds of protein, including pollo (chicken), al pastor (spiced pork), carne asada (marinated, grilled steak), and birria (stewed, shredded beef). The way the meat is prepared in Mexican cuisine is very different from their preparation in Tex-Mex style cooking—you won't see much ground beef, but you will see marinated pork, chicken, and beef sliced, chopped, or pulled.
What Food Is Offered at Backyard Taco?
You'll have no shortage of delicious flavor when you choose Backyard Taco. In fact, if you're looking for the perfect catering for your next event, we have tasty options to fill up your guests. From your classic taco bar, complete with al pastor or birria options, to family packs and individually boxed meals, we're sure to have a flavor your party will love.
Catering Options
Our catering menu features the following delicious offerings:

Mexcellence Taco Bar – This option will feed a minimum of 10 people with four tacos per person, so it's perfect for larger gatherings. You'll get your choice of chicken, al pastor, carne asada, or birria. You can choose corn or flour tortillas or half of each. Depending on whether you opted for steak, chicken, al pastor, or birria, your toppings could include diced red onion and diced cabbage or diced red onion and chopped cilantro. Additionally on offer are refried beans, grilled onions and jalapenos, chips and salsa in a variety of styles, cucumbers, limes, pickled onions, and radishes.
Individual Box Meals – These self-contained box meals come in a few assorted styles. You'll have a choice of 2 or 3 tacos or a burrito. Then, choose carne asada, birria, chicken, or al pastor. Tacos will come with either flour or corn tortillas, chips and salsa, and refried beans. The burrito option offers an additional bean and cheese option and chips and salsa on the side.
Burrito Tray – This requires an order of a minimum of 6 burritos and includes chips and salsa. You'll get your choice of carne asada, birria, chicken, al pastor, or bean and cheese.
Family Packs – These delicious packs will feed 4 or 5 people. Each includes 16 corn or flour tortillas, various taco toppings, salsa, and one pound of your choice of meat, including carne asada, birria, chicken, or al pastor.
Our
catering menu
can be adapted for a big event such as a birthday or graduation party, are perfect for your next office meeting, or can easily serve your family any night of the week.
Backyard Taco Menu Options
We have more on offer in each of our restaurant locations. Our restaurant menu includes the following:
Tacos
These delicious tacos are available with a variety of proteins and taco toppings, including:
Steak/carne asada with diced cabbage, diced red onion, and a red tomato sauce,
Chicken/pollo with diced cabbage, diced red onion, and a red tomato sauce
Shredded beef/birria with diced red onion and cilantro
Pork/al pastor/pork with diced red onion and cilantro
Tacos come with your choice of corn or flour tortillas.

Papa Loca
Directly translating to "crazy potato," Papas Locas are baked potatoes loaded with your choice of toppings.
Choose:
Steak/carne asada or chicken/pollo with sour cream, butter, diced cabbage, Monterey jack cheese, diced red onion and cabbage, and red tomato sauce
Birria or al pastor with sour cream, butter, Monterey jack cheese, cilantro, and diced red onion
Vegetarian with sour cream, butter, Monterey jack cheese, diced cabbage and red onion, and red tomato sauce.
Quesadillas
You've never seen a quesadilla like this.
Our quesadillas are stuffed with toppings, such as:
Steak/carne asada or chicken/pollo with Monterey jack cheese, diced cabbage and red onion, and red tomato sauce
Birria or al pastor with Monterey jack cheese, diced red onion, and cilantro
Bean and cheese
Cheese, cheese, and more cheese
Grilled Gordita/Chorreada
These delectable handhelds are made with grilled corn tortillas.
They feature:
Steak/carne asada or chicken/pollo with Monterey jack cheese, diced red onion and cabbage, and red tomato sauce
Birria or al pastor with Monterey jack cheese, cilantro, and red onion
Bean and cheese
Grilled Tostada
These are made with crispy corn tortillas and feature the same toppings and proteins as the grilled gordita.
Burrito
These are your familiar burrito with the same authentic flavors as the grilled gordita choice, all wrapped in a soft flour tortilla.
Bueno Bowl
The Bueno Bowl features a grouping of delicious topping combinations like:
Steak/carne asada or chicken/pollo with pinto beans, diced red onion and cabbage, guacamole, pico de gallo, and red tomato sauce
Birria or al pastor with pinto beans, cilantro, and diced red onion
Vegetarian with pinto beans, diced red onion and cabbage, pico de gallo, guacamole, and red tomato sauce
Desserts
We offer classic desserts like flan and paletas.
Sides
If you're a little extra hungry, you can get beans, chips and beans, or chips and salsa as a side.
Authentic Mexican Food and Fun
The story of Backyard Taco has the humblest of beginnings: a local family making tacos in our backyard—hence, the name. We gained such a large following that our backyard quickly wasn't big enough. Because we believe so deeply in authentic cuisine, we also believe deeply in a fun cultural experience. That's why, when we opened our first Backyard Taco location, we took care to incorporate essential elements of Mexican culture. One of the major ways we do this is by hosting a Cinco de Mayo celebration that focuses on the true origin of the widely celebrated holiday.
We also know that music is an incredibly important part of Mexican culture, and that's why we host Salsa Saturday. Because music is such a deep part of our culture, you can hear salsa music all day at each of our locations, so you get the true Mexican food experience. Finally, we know that community is the foundation of Mexican culture and family, so that's why we put back into our communities and care about the connections we make with our residents, old and new.
Those New to Arizona Choose Backyard Taco
Backyard Taco has become a staple of Mexican cuisine in Arizona, and we are excited to add new residents like you to our valued family of Backyard Taco patrons. Longtime residents and newcomers alike have learned how we strive to offer the most delicious, authentic Mexican cuisine this side of the border.

The options for Mexican and Mexican-inspired food are endless, but we are proud of our authentic Mexican food that is as flavorful and rich as our culture. For the best Mexican restaurant in Arizona, choose a Backyard Taco near you!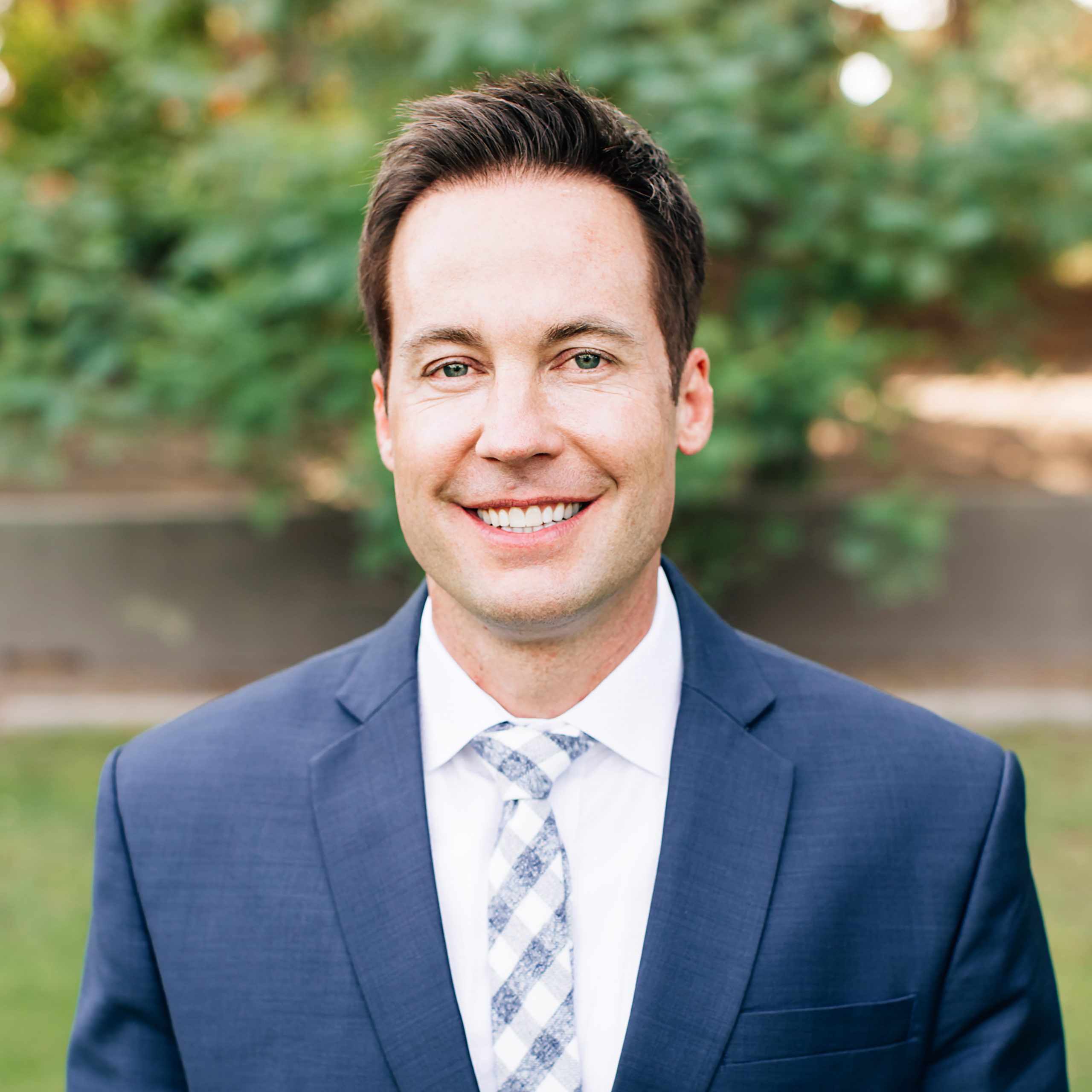 Dr. Tyler loves tacos! He is one of the owners of Backyard Taco, and can sometimes be found moonlighting there at night or on the weekends.
Dr. Tyler Robison is an alum of Mesa's Mountain View High School. He graduted from Brigham Young University before being accepted to the "Top Ten-nationally ranked" University of Louisville in Kentucky, where he earned his Doctorate in Dental Medicine and a Master's Degree in Oral Biology. He graduated with honors in the top ten percent of his class. Dr. Robison continued at the University of the Pacific in San Francisco, where he received a second master's degree in dental science and his orthodontic certification.
Dr. Tyler enjoys serving in his community. He is a provider for the Smile Back Foundation, which offers scholarships for free dental treatment to underprivileged East Valley students. He is also a Major in the U.S. Army Reserve and served during Operation Enduring Freedom in 2008.
Dr. Tyler Robison's favorite pastimes include spending time with his family on the lake, at the beach, or on the slopes. He is an avid and crazy snowboarder! He has three incredible sons and one sweet daughter: Caden, Jace, Crew, and Bliss.