With many tourists visiting Arizona for its climate and culture every year, we often find that locals will bring visiting friends from out of town to our restaurant. These tourists sometimes come from areas that truly lack authentic Mexican food, which leaves them unsure of what to order.
Exploring the Menu
The Backyard Taco menu is categorized by dish. Whether you're craving tacos, a burrito, quesadillas, or any of our other options, you'll be sure to find something appealing. After making your dish selection, your next task is to select the protein. We have a large selection of meat and toppings sure to make anyone happy.
Protein
Backyard Taco offers a wide range of authentic Mexican cuisine including the various delicious and iconic meats featured south of the border. The various cuts or preparations of our delicious meats are all labeled with different names in Spanish. This quick guide will help distinguish the nuances of each protein option:

Carne asada is a skirt steak that has been marinated and grilled to perfection.
Our pollo option is chicken breast that has been marinated and chopped to fit into any of our meals.
Al pastor is a favorite among guests. This spit-roast cooked pork is served by shaving meat off of the large rotisserie.
Birria is a shredded beef that has been braised in a hearty stew.
Classic beans and cheese are also a classic protein option for any vegetarian taco enthusiasts.
Toppings
What is Mexican food if not for toppings? Our authentic kitchen delivers the very best Mexican toppings to serve on any taco:

Shredded cabbage adds the perfect subtle crunch to pair amazingly with our chopped red onions.
Meat coated in our specialty red tomato sauce has earned us the title of 'Best Taco in Town!'
If you're finding yourself unsure of any of our toppings, feel free to substitute any topping for whole or refried beans, tangy sour cream, or cheese.
If you're looking for an extra kick to your meal, feel free to try our selection of salsas. With varying red and green options, you'll be happy whether you're looking for a mild burn or a five-alarm spice level.
Order Low-Carb and Vegetarian Options
Our restaurant features healthy options that will please any dieting or vegetarian patron coming through our doors. Carbs are an undeniable staple in Mexican food. Tortillas tend to account for most of these carbohydrates. We at Backyard Taco have solved this problem by creating the bueno bowl. The bueno bowl contains your choice of protein, beans, and our authentic Mexican toppings including cilantro and red onion.
For our vegetarian patrons, we suggest any of our dishes featuring beans and cheese. Our famous crazy potato (or papa loco) features onions, cabbage, and tomato sauce all on a heaping pile of perfectly prepared potatoes. Our quesadillas, gorditas, tostadas, and burritos also feature a bean-and-cheese vegetarian option. We have found these selections to be ideal for any customer with dietary restrictions.
Big Group? Have Your Event Catered
Whether you're catering a birthday, grad party, or low-key wedding, we have menu options for you. Too tired to cook for the whole family? Try our family pack perfect for four to five people. The order contains one pound of protein and sixteen tortillas to make your own tacos with included toppings and other necessary items. On the other side of the spectrum, our Mexcellence Taco Bar caters to a minimum of ten people. We deliver everything any party planner would need for an excellent taco bar experience. The order features protein, toppings, and even cutlery and disposable serving dishes. Our catering options span big and small.
Decide on Which Location to Go To
With five Arizona locations, it may seem intimidating to decide on which Backyard Taco to visit. Luckily, our online services can show you the way to the location nearest you. This takes the hassle out of deciding where to go to dinner, especially when many restaurants may be spread too far out for a reasonable trip.
Our Mesa North location is conveniently located at the intersection of University and Stapley and is the original Backyard Taco store. You'll find another Mesa location on the south side of town on Stapley, a bit south of the 60 freeway. If Gilbert is in your neck of the woods, check out our Higley Road location. Or, take a drive out to our newest location in Chandler, off Gilbert and Germann.
Prefer to Stay In? Order Online
First, you should plug in their location info to find the nearest Backyard Taco location. After selecting the restaurant of your choice, you can begin placing an order. When taking out as opposed to having food delivered, you must be sure to determine the time the food will be ready to be picked up. You can choose from and customize our selection of various authentic Mexican dishes.
Backyard Taco offers two online ordering services depending on whether you'd like to order takeout or delivery.
Join Our Rewards System
There are many benefits for the Backyard Taco fan when joining our rewards system. Every year on your birthday, you can expect a quesadilla of your choice on us. Not to mention the free taco you earn just by signing up. Every time you earn one hundred points or visit any of our locations ten times, you gain an automatic $5 to be spent at any Backyard Taco location.
Don't Forget the Backyard Taco Shirt
No Backyard Taco fan leaves complete without their own genuine Backyard Taco merchandise. It's the place to get your taco t-shirts. We have seven sweet options to choose from, ranging from luchador masks to taco yin-yangs. These shirt designs have been fan favorites for admirers of Backyard Taco. Our shirts are high-quality fashion statements that show everyone you know how seriously you take your tacos. Whether you're buying for yourself, a friend, or another taco lover you know, you're sure to find a good purchase in our branded shirts.
Why Wait?
With so many locations spread across Arizona, visiting one of our restaurants is the perfect idea for authentic Mexican food for most Arizona residents. New rewards memberships make the decision to spend at Backyard Taco all the easier. Whether you're planning an event for dozens of people or too tired to cook dinner tonight, make the wise choice and visit your local Backyard Taco.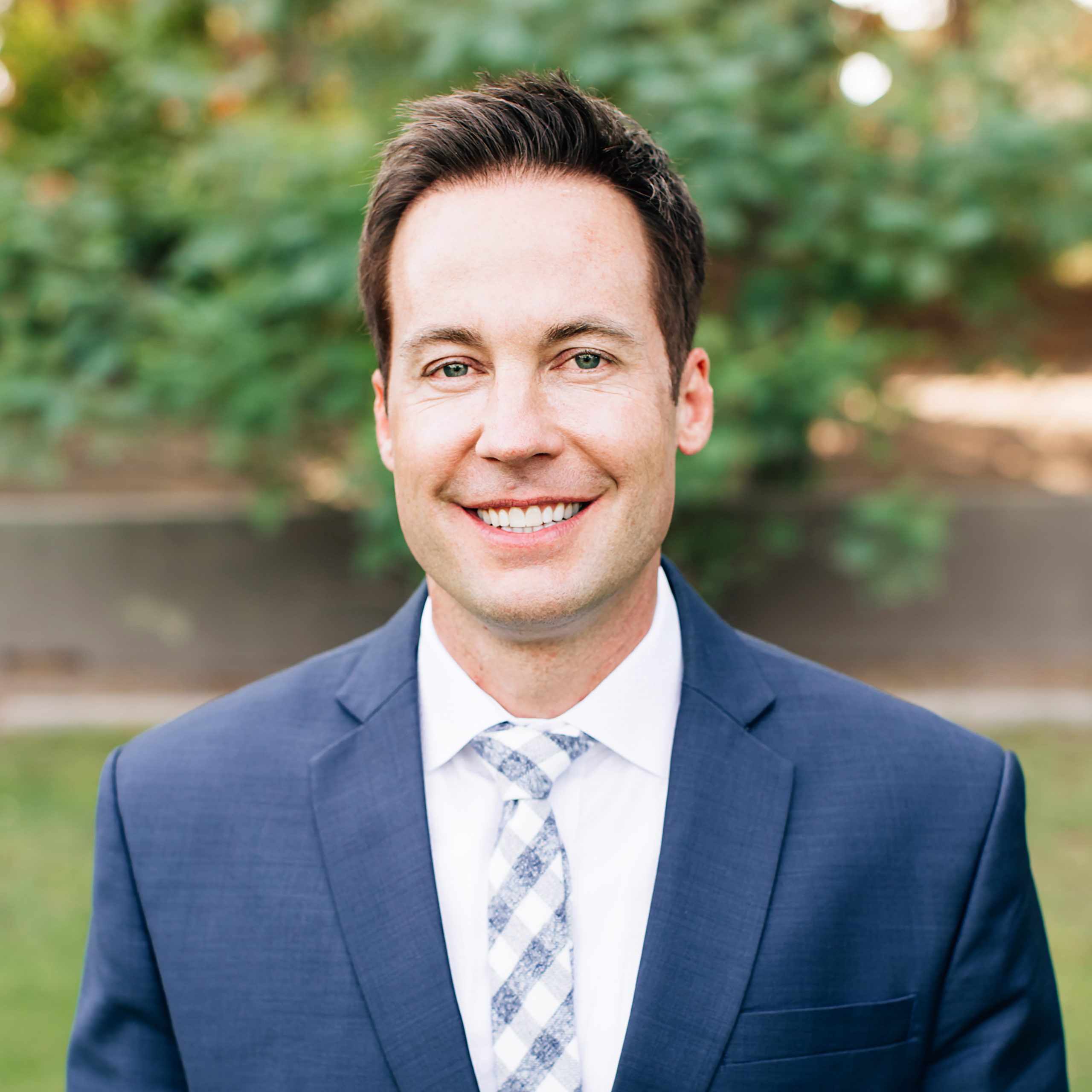 Dr. Tyler loves tacos! He is one of the owners of Backyard Taco, and can sometimes be found moonlighting there at night or on the weekends.
Dr. Tyler Robison is an alum of Mesa's Mountain View High School. He graduted from Brigham Young University before being accepted to the "Top Ten-nationally ranked" University of Louisville in Kentucky, where he earned his Doctorate in Dental Medicine and a Master's Degree in Oral Biology. He graduated with honors in the top ten percent of his class. Dr. Robison continued at the University of the Pacific in San Francisco, where he received a second master's degree in dental science and his orthodontic certification.
Dr. Tyler enjoys serving in his community. He is a provider for the Smile Back Foundation, which offers scholarships for free dental treatment to underprivileged East Valley students. He is also a Major in the U.S. Army Reserve and served during Operation Enduring Freedom in 2008.
Dr. Tyler Robison's favorite pastimes include spending time with his family on the lake, at the beach, or on the slopes. He is an avid and crazy snowboarder! He has three incredible sons and one sweet daughter: Caden, Jace, Crew, and Bliss.