Father's Day 2023 is a great opportunity to celebrate your favorite guy with tacos! At Backyard Taco, we make fresh, authentic tacos for anyone in the Arizona area looking for a great Mexican meal. We love family, we love authentic Mexican flavor, and we love tacos. Our goal is to serve the best quality ingredients you've ever tasted at a Mexican restaurant, and we want to help you make this Father's Day the best one yet.
If you're unsure how to celebrate Father's Day this year, consider using tacos as either a party theme or a great lunch or dinner option! Throughout our time serving hungry customers across Arizona, we've learned that dads love tacos. We're happy to see families come in for a unique Mexican experience, and we've received great feedback from dads who enjoy a hearty, fresh taco. For anyone planning what to do for Father's Day, consider letting our team at Backyard Taco make this day a great one.

Why Tacos for Father's Day 2023?
You may be unsure how you want to celebrate your father's big day, but we believe tacos are a great food to both eat and theme your party around! If you've never done this before, it may take some time to fully embrace the idea, but we know how impactful tacos can be when celebrating a significant occasion.
So, why tacos? First, tacos are incredibly versatile and can be made using several different types of ingredients. For example, at our restaurants alone, we offer four different taco proteins, including steak, chicken, shredded beef, and pork – plus delicious pinto beans. All tacos can be served in flour or corn tortillas and include diced red onion, cilantro, diced red cabbage, red tomato sauce, or a combination of two or more.
No matter how adventurous of an eater your father is, tacos can be enjoyed by everyone. Your father may be a regular at Backyard Taco, or maybe he's ready to try something new. We pride ourselves in serving Arizonans the most authentic, high-quality tacos in the state, and we believe we can improve your father's experience when June 18th arrives.

2023 Father's Day Gift Ideas for Taco Lovers
Taco is in our name, and we're prepared to help you find the perfect gift for your father. If your father frequents our restaurant for our authentic tacos, we can not only provide a special meal on Father's Day, but we can also help you choose a gift your father will love.

Backyard Taco T-Shirt
Is your dad a BYT fan? If so, our stylish Backyard Taco T-Shirts make a great gift. We're proud of our T-shirt designs and love seeing our business represented not only in Arizona but across the nation.
We offer seven unique T-shirt designs in our taco shop, including:
Lunchadores
These shirts feature different luchador masks, and we have different designs for four of our different locations: Chandler, Gilbert, Mesa, Queen Creek
Taco Girl
This shirt was inspired by Dia de Los Muertos art, and it boasts an incredible feminine design. Don't let the name fool you; this shirt is unisex and is designed for all taco lovers.
Dia de Tacos
While the design is similar to a yin-yang, we modified it so it contains tacos. We believe our tacos can help you achieve nirvana, and this T-shirt can be a great option for the father looking for zen in his life.
We Will Fight for Tacos
This shirt design features a strong lucha libre ready to battle anyone for tacos. If your dad is a taco lover, you can't pass this up.
Backyard Taco Gift Card
If your father loves tacos as much as we do, consider buying him a Backyard Taco gift card. This will allow him to visit any of our locations and enjoy authentic Mexican cuisine whenever he's hungry. You can't go wrong with purchasing a gift card for your father, especially if it's for a restaurant he loves. Gift cards are also an excellent option in case you can't plan a large party or event or if you're out of town on the special day.

Other Ideas for Taco-Themed Father's Day
Whether you're interested in buying a BYT gift for your father or not, we can still help your father enjoy his special day. If tacos are your central theme for the Father's Day party, our team at Backyard Taco can provide food and other assistance to make the experience memorable.

Take Your Dad Out for a Great Meal in Arizona
You've decided you want to celebrate your Father's Day by enjoying fresh, authentic tacos. In that case, let our team at one of our
five locations in Arizona
help! We have locations in
Chandler
,
Gilbert
,
Mesa North
,
Mesa South
, and
Queen Creek
, giving you and your father plenty of options to visit us in person.
We offer four different types of tacos, all made with fresh ingredients and made specifically for you.

We have numerous other delicious menu items, including our papas locos (crazy potato), burritos, Bueno Bowls, and more. If your dad wants to enjoy a great meal with great people, we'd be delighted to have you join us on Father's Day.
Bring Backyard Taco to Your Home
If you're setting up a house party for Father's Day, we can still make the party a success by catering the event. We offer four different main catering options, two of which include our award-winning tacos. You can place an order online and have it delivered directly to your door, or you can come to pick up your order at one of our five locations.
Our Mexcellence Taco Bar serves at least ten people and includes four tacos per person. You get a choice of meat (chicken, pork, steak, or shredded beef), tortillas, toppings, as well as some sides, including chips & salsa and refried beans. If you'd like to purchase individual boxed meals, we offer this as well. Each box meal contains either two or three tacos or a burrito. Our taco boxes include chips and salsa and a side of refried beans.
Of course, you can order our usual menu to go, depending on your situation. No matter how many people are involved, Backyard Taco can help feed everyone with great, authentic Mexican tacos.

Throwing a Taco Party
If you want to make this Father's Day more memorable than the rest, consider throwing your dad a taco-themed party! Not only can we help cater the event, but we can offer various ideas to help everyone make fantastic memories. Taco parties are not only easy to organize, but these can be a great way to make memories you and your family will discuss for years to come.

You may have other party ideas in mind, but we hope you'll consider a taco party as one of your possibilities. There are plenty of reasons to host a taco party over other themes, and these reasons go beyond the food itself.
Taco parties don't require a ton of stressful planning or steps to be successful. Parties can be stressful on their own, but when you organize a taco party, especially ones catered by us, the prep becomes simple.
One tip when hosting a taco party is to keep the menu simple, especially if there are a ton of guests. A rule of thumb to consider is to plan on each guest having three tacos each. Of course, depending on your guests, you may want to account for a few extra tacos if you're expecting hungry dads!
Taco parties are also relatively inexpensive, especially if you're planning to party in the afternoon. The last thing you should be concerned with is a financial mess, mainly because you should be focused on celebrating Father's Day with your family and other loved ones. If pricing is a concern but you have company coming over, a taco bar is a great solution to mitigate costs and ensure everyone has fun.

Setting Up a Taco Bar
Everyone is different and likes tacos prepared in their own way. Your father may prefer pork tacos with cilantro, whereas you prefer steak tacos with red onion. No matter your preferences, you can enjoy fresh tacos by setting up a taco bar. You also don't have to worry about what each individual likes to eat. By displaying several different meats, vegetables, toppings, and spices out on a table, along with some tortillas and sides, each guest can choose what to enjoy. This prevents the need to make these tacos yourself, allowing everyone to customize their tacos however they see fit.
As mentioned previously, we can help you cater your Father's Day event, allowing you to create a taco bar full of authentic ingredients from Backyard Taco. This is something everyone can enjoy, allowing partygoers to customize their tacos to their liking. If your father is an adventurous eater, he can try as many toppings and meats as he'd like, something you may not be able to do in one of our locations.
A taco bar allows everyone to enjoy what they like while bonding together over fresh Mexican cuisine. For the fathers who consider themselves taco lovers, you can't go wrong with organizing a taco-themed party to celebrate the big day.

Save Your Leftovers
Another significant advantage of hosting a taco party is the ability to save all of the food your guests didn't eat. Backyard Taco's high-quality food shouldn't go to waste, and we encourage you to save it or have your guests take some home. Better yet, if your father lives elsewhere, send him some food so he can make his own tacos after the party concludes. Also, boxing up leftovers prevents you from needing to spend time cleaning up any mess that may have accumulated as a result.

Make Father's Day 2023 Memorable
If you've been stuck looking for Father's Day gift ideas for taco lovers, we hope we can help make the day enjoyable for your father's special day. Not only do we offer gift cards and T-shirts, but we can provide an authentic and satisfying Mexican meal in our restaurants or at home. Your father has seen you grow up and navigate this hectic world, and we want to help celebrate this by organizing a taco-themed day.
No matter where you are in Arizona, our team at Backyard Taco is prepared to make this Father's Day a unique one full of good food and great memories.

For more information on how our team can help, contact us about catering options.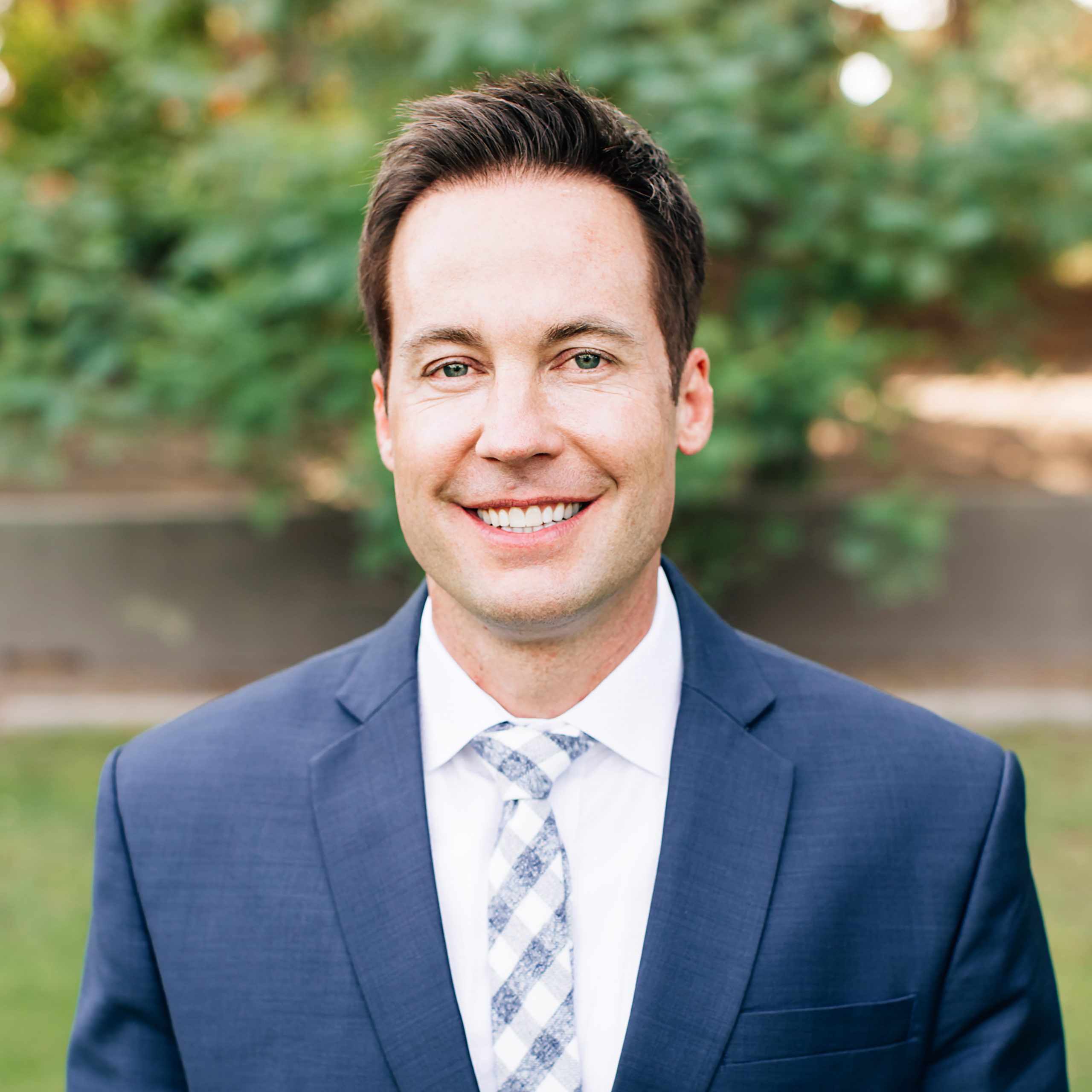 Dr. Tyler loves tacos! He is one of the owners of Backyard Taco, and can sometimes be found moonlighting there at night or on the weekends.
Dr. Tyler Robison is an alum of Mesa's Mountain View High School. He graduted from Brigham Young University before being accepted to the "Top Ten-nationally ranked" University of Louisville in Kentucky, where he earned his Doctorate in Dental Medicine and a Master's Degree in Oral Biology. He graduated with honors in the top ten percent of his class. Dr. Robison continued at the University of the Pacific in San Francisco, where he received a second master's degree in dental science and his orthodontic certification.
Dr. Tyler enjoys serving in his community. He is a provider for the Smile Back Foundation, which offers scholarships for free dental treatment to underprivileged East Valley students. He is also a Major in the U.S. Army Reserve and served during Operation Enduring Freedom in 2008.
Dr. Tyler Robison's favorite pastimes include spending time with his family on the lake, at the beach, or on the slopes. He is an avid and crazy snowboarder! He has three incredible sons and one sweet daughter: Caden, Jace, Crew, and Bliss.