Nothing says summer like sitting in the sunshine eating delicious, melt-in-your-mouth tacos, quesadillas, or cheesy potatoes. Almost everyone can agree on that! There is just something about fresh, home-cooked Mexican food that leaves everyone feeling festive. Maybe it's the vibrant and spicy tastes, or the abundant fresh vegetables in every dish, or maybe it's the careful balance of bold flavors. Whatever the reason, there are people all around the world seeking out the nearest Mexican food joint or taco truck to get a fill of their favorite dishes. If you live in Arizona, you needn't look any further than your nearest Backyard Taco.
What Is Backyard Taco?
Backyard Taco is rooted in home-style, authentic cooking because that's where it all began. Backyard Taco founders Ruben and Marisela, both from beautiful Mazatlán, Mexico, began sharing their love of cooking and the magical way that good food brings people together, back in 2005, when they started cooking their favorite Tacos Al Carbon for family and friends. At first, Ruben and Marisela would go to friends' homes and cook in the backyard. Soon, people began following them around from yard to yard in search of these legendary tacos. Eventually, backyards simply weren't big enough for all the hungry taco-lovers, so Ruben and Marisela decided to open their own restaurant, and Backyard Taco was born.
The Backyard Taco Crazy Potato
If you are a Mexican cuisine aficionado and a frequenter of all the best Mexican food hubs around, perhaps you have had your fill of tacos, burritos, and quesadillas and are looking to try something different. Or maybe you are an avid foodie or culinary adventurer on the hunt for something new to sink your teeth into. Whatever the case may be, Backyard Taco has the dish for you — the Crazy Potato, otherwise known as the Papa Loca.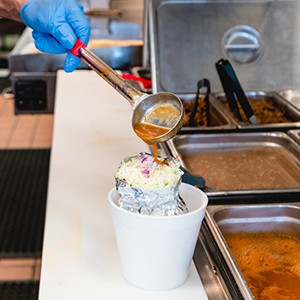 What Is Papa Loca?
Papa Loca, or Crazy Potato, is Backyard Taco's spin on one of the most beloved and versatile foods — the potato. Imagine all the goodness of a cheesy baked potato. Now imagine all the bold flavors and crunchy creamy textures of your favorite tacos. If you can imagine them together, you've got the Backyard Taco Crazy Potato. Like you, we love potatoes, and we love tacos, so we created a way to enjoy these two amazing foods together.
We start with a potato, baked to perfection and smothered with butter, sour cream, and Monterey Jack cheese. After that is where the potato gets "crazy." You can choose a potato topped with one of our favorite meats, including mesquite-grilled carne asada, shredded beef, al pastor, mesquite-grilled chicken, or a vegetarian option with extra cabbage, tomatoes, and onions. All potatoes are topped with the essentials — shredded cabbage, diced tomatoes, and red onion, and a generous portion of our secret red tomato sauce. Papas Locas are a delicious option for anyone wanting to try a new take on their favorite flavors. They are even good for anyone looking for a slightly lower-carb option than the classic taco.
Papa Loca Menu Options
No matter what kind of toppings you crave, whether you are a meat-eater or a vegetarian, we have a Crazy Potato that will get your mouth watering.
When deciding on your own Papa Loca, you can choose from:
Steak Potato
One of the most popular Crazy Potatoes on our menu, this one is filled with mesquite-grilled carne asada, shredded cabbage, diced tomatoes, diced red onion, and smothered with cheese, sour cream, and butter – served, of course, with a wedge of lime.
Barria Potato
The Birria Potato is layered with butter and sour cream, then loaded with shredded beef and Monterey Jack cheese. It is topped off with a mound of shredded cabbage, diced tomatoes and onions, fresh cilantro, and served with a lime wedge ready to squeeze.
Vegetarian Potato
Not a meat-eater? Not to worry. Our Vegetarian Potato is a creamy, cheesy delight loaded with butter, sour cream, shredded cabbage, diced tomatoes, and onions, served with our secret red sauce over the top.
Chicken Potato
The Chicken Potato comes packed with butter, sour cream, and melty Monterey Jack cheese. It is loaded up with our signature mesquite-grilled chicken, shredded cabbage, diced onions, and tomatoes, then drizzled with everybody's favorite Backyard Taco red tomato sauce.
Al Pastor Potato
This potato is first slathered in butter and sour cream, then filled with a generous serving of Al Pastor, the classic Mexican spit-grilled pork commonly used in tacos. Over it all goes a crunchy mound of shredded cabbage, fresh tomatoes and onions, and cilantro.
Backyard Tacos Papa Loca Reviews
If you still aren't as convinced about Crazy Potatoes as we are, check out what some of our customers have written:
"If you're looking to surprise your palate, add the Crazy Potato with Carne Asada for a taste combination that will blow your mind."
This happy customer was referring to the Steak Potato with our classic carne asada. Great food and a good atmosphere appeals to people from all walks of life and is capable of creating a community of food-lovers. Our customers can attest to that.
"This place has a huge local support base and serves authentic tacos. Patrons included everyone from businessmen in suits to bikers and everyone in between. Meat was of good quality, fast service, fresh ingredients."
"Stopped by here for the first time a couple of days ago. Really glad we did. Great assortment of Mexican food at reasonable prices. The salsa bar was filled with fresh pico, cucumber, radish, pickled onions, several salsas, and a guacamole sauce. Was delicious."
The History of the Potato
You might be wondering, are potatoes really a Mexican food? The answer is a resounding "Yes!" In fact, potatoes have been a staple food in Mexico since the 1500s, when Spanish explorers first ventured North and introduced cultivated varieties of potatoes they had gathered in Peru and other South American countries.
Over the years, there has been some confusion about where potatoes really come from. This is perhaps because, for a long time, potatoes have been a very prolific and important food source in many regions of the world, especially Europe. Because potatoes have been so popular and such a staple ingredient in much of Western and Eastern Europe, many people falsely believe that potatoes originated in Europe. In fact, before ever being cultivated by humans, potato plants grew wild throughout South and Central America. These wild potato plants were first domesticated and intentionally cultivated for food in the Andes region of Peru and Bolivia.
Although it's hard to say exactly when cultivation began (potato tubers don't preserve very well, it turns out), some experts believe potatoes were farmed in South American as far back as 10,000 years ago. When the Spanish explorers sailed back to Europe and other parts of the world, they brought several varieties of potatoes with them. Because of their great flavor, heartiness, amazing versatility, and easy growing, potatoes soon became a favorite on almost every continent.
Backyard Taco Locations
Backyard Taco has grown since our humble beginning and now has four locations within Arizona. You can find us in Chandler, Gilbert, Mesa North, and Mesa South. Find the location nearest you and come on down to get your own Crazy Potato. In a rush? No problem. You can place your order online for fast and convenient pick-up. We always use fresh, high-quality ingredients because that's what we would serve our own family and friends. And just like we would if we were cooking at home, we prepare every meal with the utmost love and attention.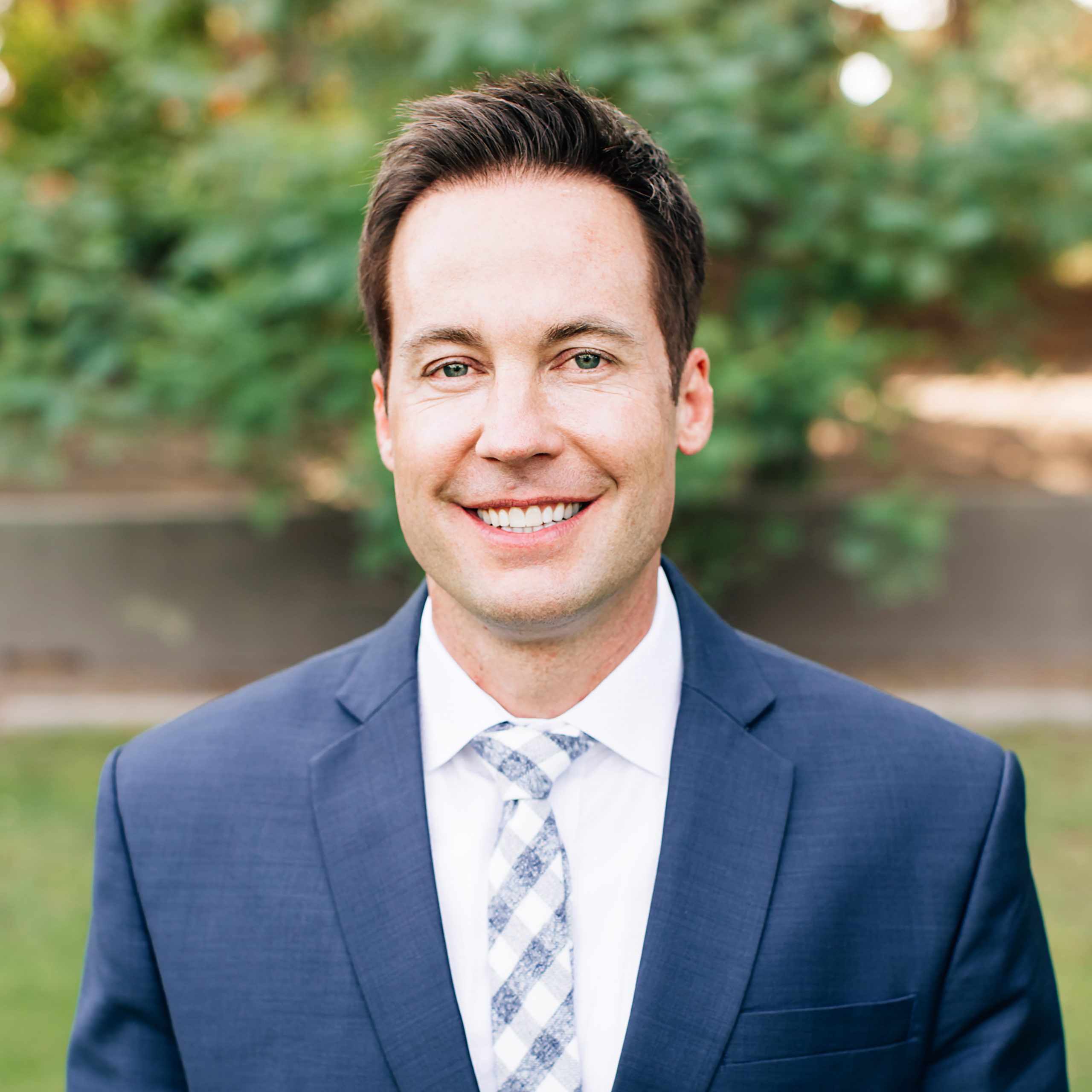 Dr. Tyler loves tacos! He is one of the owners of Backyard Taco, and can sometimes be found moonlighting there at night or on the weekends.
Dr. Tyler Robison is an alum of Mesa's Mountain View High School. He graduted from Brigham Young University before being accepted to the "Top Ten-nationally ranked" University of Louisville in Kentucky, where he earned his Doctorate in Dental Medicine and a Master's Degree in Oral Biology. He graduated with honors in the top ten percent of his class. Dr. Robison continued at the University of the Pacific in San Francisco, where he received a second master's degree in dental science and his orthodontic certification.
Dr. Tyler enjoys serving in his community. He is a provider for the Smile Back Foundation, which offers scholarships for free dental treatment to underprivileged East Valley students. He is also a Major in the U.S. Army Reserve and served during Operation Enduring Freedom in 2008.
Dr. Tyler Robison's favorite pastimes include spending time with his family on the lake, at the beach, or on the slopes. He is an avid and crazy snowboarder! He has three incredible sons and one sweet daughter: Caden, Jace, Crew, and Bliss.