National Taco Day is coming up, and you don't want to miss out on the tasty food, the celebrations, and the general community of the day. But what makes National Taco Day different from other days of celebration for food? For us, National Taco Day celebrates a lot more than what fits inside a tortilla; it's a reflection of the journey to join our two nations in celebration and the shared history that brings us together.
Learn more about our favorite food holiday!

Why Is National Taco Day Celebrated?
Tacos are foundational to Mexican cuisine in a way that predates even the nation of Mexico. Before colonization, back in 3000 BC, tortilla-like vessels with fillings have been a key indigenous food that has brought joy and sustenance to our communities for thousands of years.
When the mining and railroad booms started to attract workers from Mexico to the US Southwest in the 1900s, the miners and railroad workers brought their food with them. In San Antonio, in particular, women set up traditional outdoor food stands that would serve a wide variety of Mexican staples. Key among them was the "taco de minero." which was the first introduction within the United States of food close to what we know and love as the taco. These women were known as the San Antonio Chile Queens, and they were absolutely key to the introduction of Mexican food to the United States.
As you can see, the taco has been a key part of Mexican heritage for longer than either Mexico or the US has been around. The journey of this food's integration into the culture is part of the story of how our community was formed. National Taco Day may not seem that important in the scheme of things, but its roots in community and political organizing have earned broader recognition for Mexican Americans all throughout the United States.

Who Made Up National Taco Day?
The man who initially came up with the idea of National Taco Day was Roberto L. Gomez, Esq. Gomez wrote a regular column for the local newspaper, the San Antonio Express and News. He had a unique perspective as a former candidate for the city council and the leader of the San Antonio Social Civic Organization, which was extremely involved in the politics of the mid-to-late 20th century.


For example, SASCO was an instrumental part of the "Vive Kennedy!" effort to organize Latino votes for candidate John F. Kennedy, especially in the West and Southwest. SASCO also consistently fought for the broader recognition of Latino voices in US politics. Interestingly enough, one of the most notable ways they did this was through food, sending 48 pounds of giant tamales, 55 pounds of tacos, and 110 pounds of chalupas to sitting US presidents up through the 80s. This was seen as a way to remind those presidents of the weight of the Mexican community in the US. While that may seem unusual, these tactics – alongside more typical political organization – seem to have worked. They served as a reminder that Mexican-Americans deserved – and attained – a crucial political voice.

In the late 1960s, Gomez started organizing the National Taco Council, a group of Mexican establishments in the city that saw the taco as a matter of national pride for Mexico. In an official statement from the National Taco Council, they proclaimed that since Mexican culture had produced such a fine piece of culinary excellence – the taco – it was inarguable that the culture was destined for greatness. They also declared the taco a legitimate masterpiece representative of Mexican cuisine.

As part of these efforts, the National Taco Council worked with San Antonio Mayor Walter W. McAllister to proclaim that National Taco Week would be the week of Cinco de Mayo starting in 1967. The mayor said in his speech that San Antonio should be recognized as the sole city responsible for establishing Mexican cuisine in the US. This act of recognition was the beginning of the National Taco events and showed it for what it really is: an act of international pride in the innovations of the country of Mexico.

Another political organizer, Henry B. Gonzalez, was heartened by the National Taco Week pronouncement of San Antonio. As a congressman, Gonzalez frequently hosted Mexican luncheons at Capitol Hill as a form of cultural outreach to his colleagues, building familiarity with the food of his community. On the Congressional floor in 1968, he recognized SASCO and declared that National Taco Week began on April 28 and ended on May 4th, with National Taco Day falling on May 3rd, his birthday.

During his address, Gonzalez went so far as to claim that the taco was now equal to the hot dog and the hamburger in terms of cultural and culinary significance. The very next year, in 1969, the Texas Governor's Office echoed the San Antonio proclamation, with National Taco Week occurring directly ahead of Cinco de Mayo, and recognized it from the highest office in the state.

The National Taco Council didn't stop at establishing National Taco Week and continued to be actively involved in voter registration and campaigning efforts. In 1971, Gomez and the National Taco Council awarded comedic actors Cheech & Chong a 6-yard-long taco to recognize their political work registering youth voters. This also reflected the unity of the Council and SASCO in using giant food to mark important political work.

By 1974, Texas had expanded National Taco Week to National Taco Month. The celebrations drew sponsorships from across the corporate landscape, including Kraft Foods, Pearl Brewing, the Texas Executive Chef's Association, and many others. In keeping with bringing these state-level efforts to the national stage, Gonzalez once again spoke about National Taco Month on Capitol Hill.

Over more than a decade of organizing work, The National Taco Council became an absolutely necessary stop for any politicians visiting San Antonio. Any time a politician arrived to talk or campaign to the people of the city, it was expected that they would also pay a visit to the National Taco Council to talk to them about their concerns over some delicious tacos.

Unfortunately, the National Taco Council faded from the limelight towards the end of the 1970s. Gomez had experienced some health issues, and his ability to promote the Council was quickly fading. By 1980 there were no records mentioning National Taco Week or Month. Three years later, Gomez passed away.

What Went Wrong: Why Does National Taco Day Keep Changing?
In 1989, Taco Bell was looking for new marketing avenues and became aware of the National Taco Month legacy. They decided to try it on as a promotion and "an excuse to have fun." Unfortunately for the restaurant, they got very little traction with it, and for the next 11 years, nobody heard about National Taco Week, Month, or Days. The celebration was shelved and once again left to history.
It wasn't until the year 2000 that a National Taco event started to get renewed attention. For the first time in more than a decade, National Taco Day was mentioned when Chuy's Tex-Mex applied to trademark the name "National Taco Day."

Their trademark was rejected for unexplained reasons (there need be none – National Taco Day belongs to everyone, after all). Still, they still went ahead with the marketing effort, declaring June 12th to be Chuy's National Taco Day. Websites and papers across the nation picked it up, and for a time, National Taco Day was back.
The history of National Taco Day gets a little foggy at this juncture. At some point during 2004, online readers, seemingly at random, decided that the "real" National Taco Day wasn't June 12th – but it also wasn't the original date of May 3rd. For some reason, a group of people on the internet decided that National Taco Day's proper date was October 4th. Why this change happened, we'll never truly know.
It wasn't until 2009 that yet another restaurant (Del Taco) paid for a huge national press release regarding National Taco Day. At this point, the public really started to return to broad awareness of the celebration. This press release went viral and brought National Taco Day back into the national zeitgeist.
Despite the date's lack of historicity, people found they could enjoy National Taco Day as an excuse to have fun and engage with some truly excellent food. Rather than insisting the day was one day or another, San Antonio's Taco Cabana chain joined in with the Oct 4th date. As a San Antonio chain, this gave some legitimacy to the new date and helped to spread the celebration to broader audiences.
While it's unfortunate that National Taco Day has shifted considerably due to consumerism, there's a silver lining to its re-established national fame. It's up to us what National Taco Day gets to mean. At Backyard Taco, we choose to take it up in the spirit it was originally created to display: with a celebration of Mexican heritage, the history of our cuisine, and the spread of our community through this wonderful food.

How Do You Celebrate National Taco Day?
On National Taco Day, Backyard Taco is celebrating by creating precisely what the day is about: delicious, authentic tacos. You can join us in celebration by visiting your closest Backyard Taco location and enjoying what we're cooking up, which are authentic Mexican tacos with all the flavors of traditional Mexican cuisine. For those already in the know, there are treats to be had, and you can enjoy a variety of styles, including trendy birria tacos, al Pastor, pollo, and carne asada.
As Mexican food lovers with family recipes who love sharing this cuisine with others, National Taco Day is important to us. It is another day we get to share authentic tacos with people and celebrate our heritage. We are always proud to bring the best of Mazatlan, Mexico, to all of our neighbors in Arizona, and we look forward to doing so for many National Taco Days to come. Our celebrations started with the community and gradually grew into restaurants that we are proud to share every day to keep the tradition of great food and great neighbors alive.
To some people, it might seem silly to get sentimental about tacos, but we've found our lives and communities in meat, sauce, and tortillas. Tacos matter because people matter. Not the other way around.

Come Celebrate With Us on October 4th!
Food should be as much of a celebration as possible. We are what we eat, and we should take joy in our food every single day that we can. Eating the food people make and enjoying their company is a way of getting to know them that goes deeper than words frequently do.

That's why the original founders of National Taco Day created the holiday and then continued to make connections with others via the power of Mexican cuisine.
Here at Backyard Taco, we're passionate about our food and the cultural connections we can make with one another while enjoying it. That's why our mission is to bring the joy of Mazatlan to the streets of Arizona. If you're hungry for food, community, or history, come on down to your nearest Backyard Taco on October 4th (or any other day) and feel the love that can only be provided by an authentic Mexican taco.
Alternatively, consider throwing a National Taco Day party of your own and contact your favorite Backyard Taco for catering or to-go packs. No matter how you choose to celebrate, we're your source for truly special, truly original Mexcellence.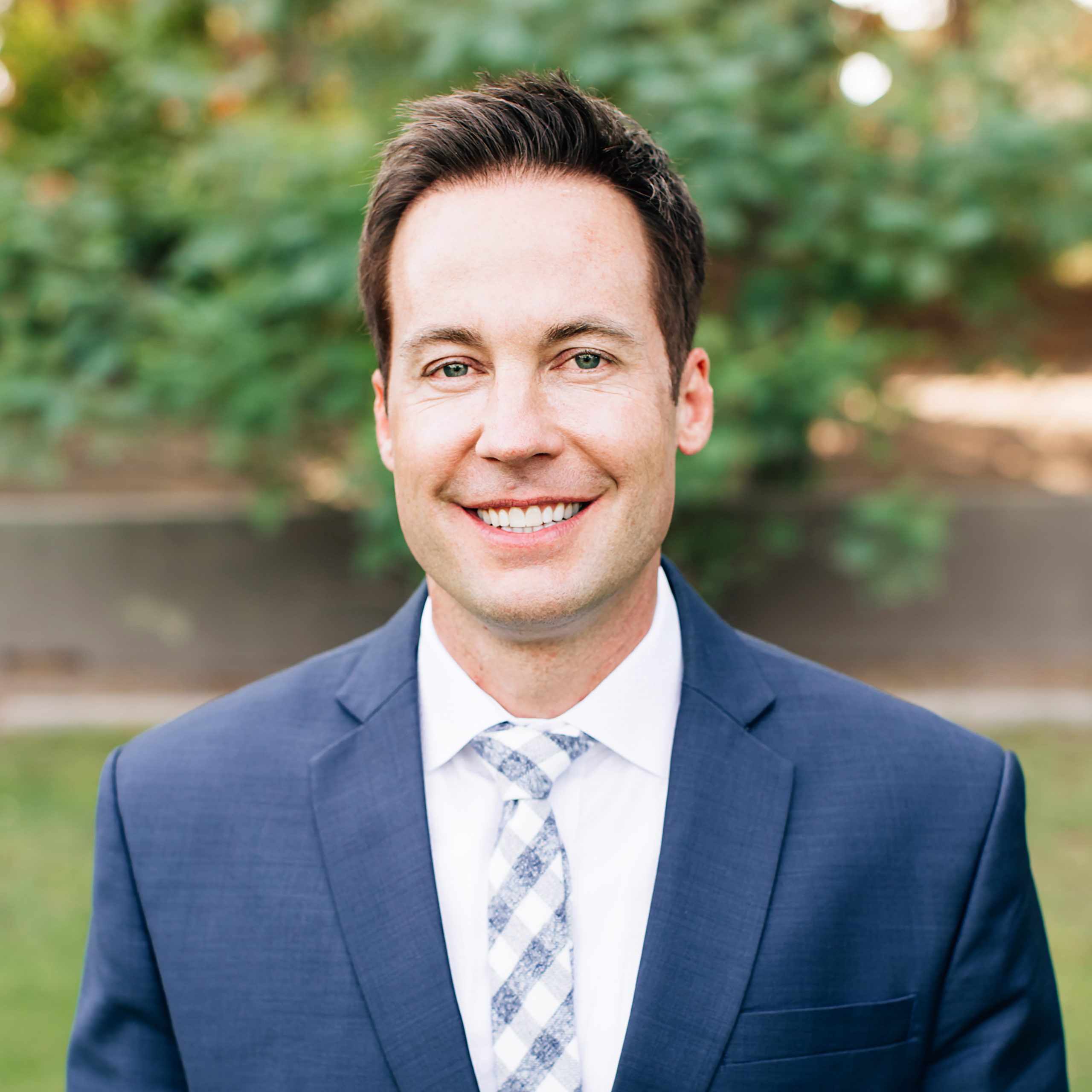 Dr. Tyler loves tacos! He is one of the owners of Backyard Taco, and can sometimes be found moonlighting there at night or on the weekends.
Dr. Tyler Robison is an alum of Mesa's Mountain View High School. He graduted from Brigham Young University before being accepted to the "Top Ten-nationally ranked" University of Louisville in Kentucky, where he earned his Doctorate in Dental Medicine and a Master's Degree in Oral Biology. He graduated with honors in the top ten percent of his class. Dr. Robison continued at the University of the Pacific in San Francisco, where he received a second master's degree in dental science and his orthodontic certification.
Dr. Tyler enjoys serving in his community. He is a provider for the Smile Back Foundation, which offers scholarships for free dental treatment to underprivileged East Valley students. He is also a Major in the U.S. Army Reserve and served during Operation Enduring Freedom in 2008.
Dr. Tyler Robison's favorite pastimes include spending time with his family on the lake, at the beach, or on the slopes. He is an avid and crazy snowboarder! He has three incredible sons and one sweet daughter: Caden, Jace, Crew, and Bliss.